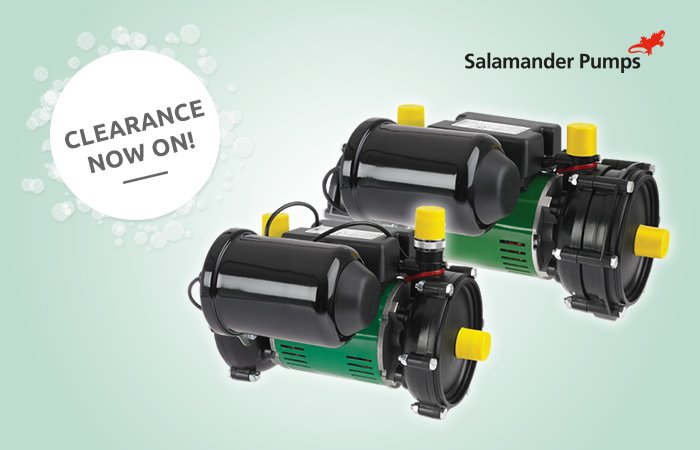 With the launch of Salamander's new flagship Right Pumps range back in June 2017, the UK's leading pumps manufacturer has now decided to call time on their older but still popular ESP models.
After negotiations with Salamander, we have successfully managed to acquire the last remaining stock of these ESP pumps, which is great news if you're looking for a direct replacement of a trusty pump:
These two pumps are the most popular ESP pumps that Salamander produced, and have been the primary choice for installers all over the UK for many years. They are also ideal replacements for the equivalent Stuart Turner Techflo pump models (which are now discontinued).
Designed specifically for one or two bathroom systems, both the ESP50 and ESP75 can comprehensively boost supplies to baths, basins or showers which may be above and/or below cold water storage tanks. This is known as a universal (positive + negative) head setup – typically found in flats, lofts and barn conversions.
Feature set
Both pumps boast the following specifications:
Suitable for positive and negative (universal) head installations.
For gravity fed water systems only.
Can be used with taps and showers (including multi-function shower heads), or even the whole bathroom if needed.
Twin impellers for boosting both hot and cold water supplies simultaneously.
Centrifugal motor offers maintained pressure and increased flow rates.
Supplied with isolating AV couplers.
Very quiet operation.
WRAS approved.
Installation guide included.
Covered by our own 30 day returns policy.
The Salamander ESP50 pump has a maximum pressure rating (closed head) of 1.5 bar; the stronger ESP75 has a higher rating of 2.2 bar, allowing for a pressure requirement of up to 65ft - 75ft head.
Additionally, both pumps are guaranteed for a minimum of 2 years, which can be extended to 3 years by simply contacting Salamander's "PumpWise" technical team to confirm a correct installation (for best practices see the graphic below).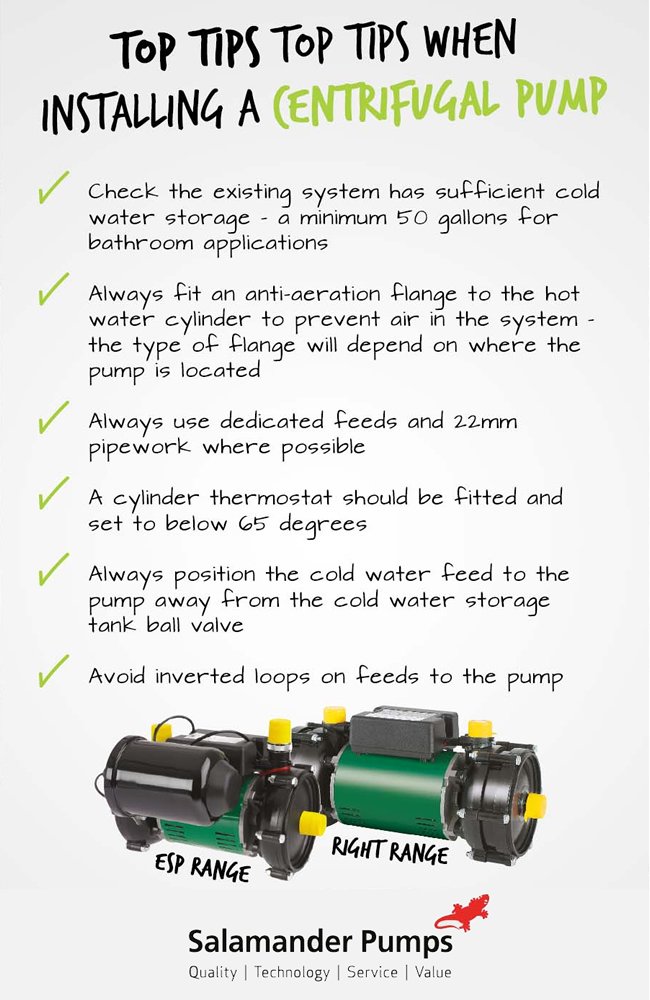 Salamander pumps are famous for their extremely quiet operation, and as they utilise centrifugal motors, the ESP range is no different. That said, Salamander do provide an anti-vibration noise reducing pump mat, which delivers superior noise reduction should you require it.
A handy item when installing a new pumps is the Salamander S-flange. This encourages aeration to follow a natural path to the vent and prevents aerated supply water being drawn into the pump.
Price and availability
At the time of publishing, the Salamander ESP50 is priced at £215, including VAT. The RRP for this model is normally £650, a saving of £435 (66% off).
The more powerful variant, the Salamander ESP75, is currently on offer for £250, including VAT. Similarly, its RRP is £710, constituting a discount of £460 (65% off).
Please contact us if you need any help choosing the best pump for your requirements.
But hurry – only limited stocks are available!