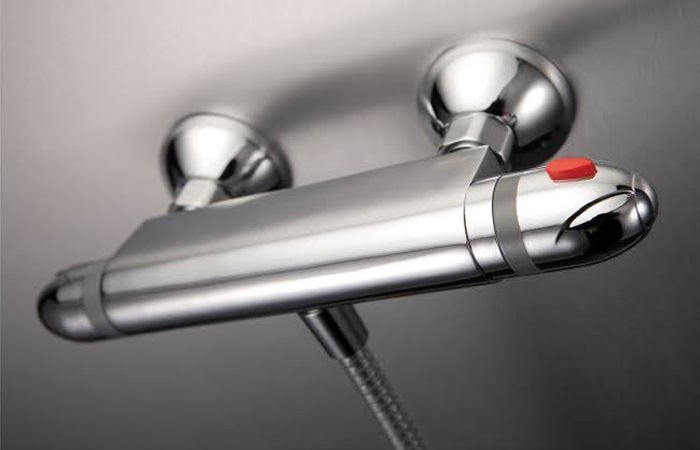 With literally hundreds of mixer showers available on the market today, what exactly makes a great mixer?
Price, design, and performance can all play a decisive factor when choosing a model. Indeed, so can reliability and ease of installation.
Why not take a look at the Mira Coda EV thermostatic bar mixer shower (2.1630.001), where all these elements – and much more – are already thoughtfully taken into account by the industry leader, Mira.
This flexible yet powerful bar mixer valve packs a serious punch, and boasts a myriad of features to compete with the rest, including special Z-connectors to fit over previous pipework if needed.
Why the Mira Coda EV?
With a stylish chrome finish, the Mira Coda EV is perfectly suited to a contemporary or family bathroom. Whilst it has an uncluttered, minimalist look it always delivers maximum performance.
As is now the standard with Mira mixers, the Coda EV utilises patented Magni-flo™ technology, which produces up to 3x more flow than similar mixer showers at low pressure, giving you the ultimate shower spray experience (see video below). In fact, the Mira Coda EV is suitable for all household water systems.
Not only that, but with its built-in thermostatic temperature stability, the shower is safe for the whole family to use, even if other appliances in the house are demanding water at the same time.
A maximum temperature stop furthers adds to the top safety rating of this shower, with a manual override available for a hotter temperature if desired. Mira's Cool Shield™ technology ensures the valve remains cool to the touch, even during hot showering.
With its sleek, exposed design, the Mira Coda EV is cleverly supplied with offset Z-connectors to maximise flexibility. Its pipe centres are 150mm (+/- 24mm), allowing for easy installation over a previous mixer's pipework. This one feature alone should be enough to persuade the most undecided of customers – after all, who doesn't want a great mixer shower that's also incredibly easy to install as well?
But the best part about this Mira Coda model?
Quite simply, it's the unbelievably affordable price we're able to offer, at less than half the RRP. You won't find another bar mixer shower in the UK with all the features and quality of the Mira Coda EV for a price that's even close.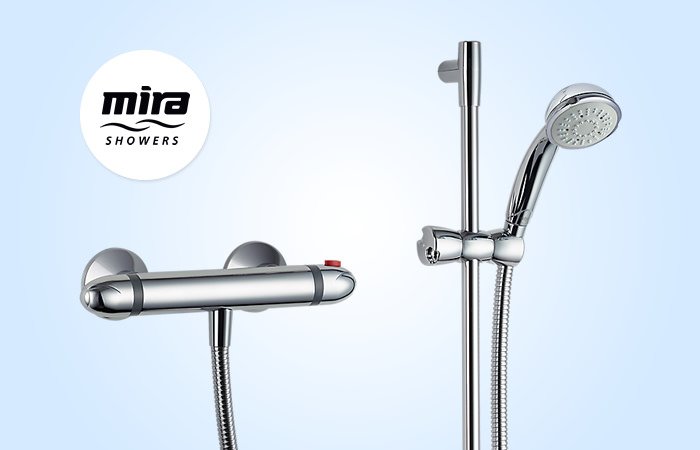 What else is included?
As well as a powerful mixer valve, the Mira Coda EV is supplied with a Mira L11 shower head, complete with three spray patterns (Start, Soothe, and Force). Rub-clean nozzles allow for easy cleaning and limescale removal, to help extend the life of the handset.
A shower head holder (18mm diameter), 1.25m plastic shower hose, hose retaining ring, and riser rail are also all included. Each of these accessories boast a premium and stylish all-chrome finish to ensure the shower looks great in any bathroom setup.
For added peace of mind, a 5 year Mira manufacturer's guarantee is also provided, as well as a comprehensive installation guide as you would expect.
Where can I buy this shower?
Thanks to our long-standing and successful relationship with Mira, we're able to offer the Mira Coda EV at a fantastic price that simply won't be beaten elsewhere – not even from the likes of PlumbWorld or VictoriaPlum.com.
We also have large quantities of this highly-popular shower, too, which is great news for installers looking for a trusty mixer, backed by our famous same day despatching and customer support.
Like what you've read about the Mira Coda bar mixer shower? See full product information here.
There are also other variants in the Mira Coda family of mixer showers, notably the Mira Coda Pro ERD (1.1836.006).
You can view the rest of the Mira Coda range here.
Need any advice? Please don't hesitate to get in touch with us, or leave us a comment below.