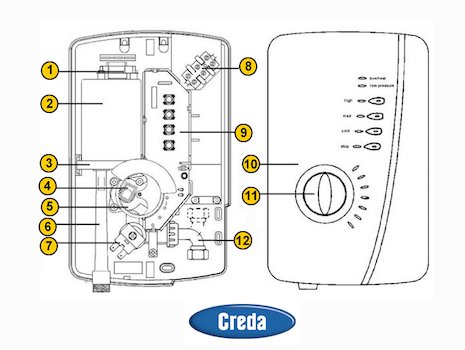 TAP FOR LARGER IMAGE IN NEW TAB

Official Stockist
Creda 550c (550c) Shower Spares
All available shower spares/replacement parts to fit the Creda 550c (550c).
Use the main diagram to identify the shower spare(s) you need to replace. Then use the table below to locate your relevant part(s).
Need any help or not what you're looking for? Try our unique Shower Spares Finder or you can contact us.
There are 12 currently available spares for the Creda 550c (550c).

These are sorted by diagram reference first (if available) and then by product code in numerical / alphabetical order:

Do you have a question about the Creda 550c (550c)?

Click the button below to send a question to one of our expert members of staff and we will email you back a direct response. If we feel the information might be useful to other customers, we will also show your question below for others to see.

Shower runs cold & low pressure light is on. Is this going to be a new TCO ?

Hello, it is not the TCO, but the pressure switch, which is part of the tank base assembly 93590769, the micro switches are not be activated, either beacause of poor inlet pressure or a fault with the pressure switch.

I have to turn the dial to almost maximum temperature just to get warm water. This gives weak flow from the shower head, easy fix?

Hello, you have lost the use of one heater tank element, it is now running on half power, you need an electrician to test the heater tank or the switches that send the power to the heater tank.

when i turn on the shower the overheat light comes on then if i adjust the temperature control it goes out and the low pressure light comes on the water stays cold all the time

Hello, the overheat light is wired to the thermal cut out, the low pressure light is wired to the pressure switch, but we doubt both would be faulty. it sounds like it may be a faulty PCB.
But to be 100% sure you need to consult an electrician.

The adjustable slider grip and the conical nut on the shower hose have both split - were on earth do go to replace these
Can you help pleasse

Hi
We can supply the hose white or chrome, we will require the diamiter of rail for replacement holders, see link to our search page
https://www.showerspares.com/redring_shower_spares/redring_all/

HI, just a quick question, I have water coming out of the small black rubber tube behind the outlet connection.. I have removed the blockage from the shower head but theres no difference. What could be the reason?

Hello, it sounds like the prv washer has burst, replace the part 93795817, the blocked head was prpbably the cause of it bursting.

Hi, Shower is too hot when on med or high setting And cant be varidd by turning the dial. We've cleaned the filter to the solenoid but no different? Any ideas or time for a new shower?
Many thanks,
Jo

Hello, have you cjecked the spray head for blockage, if all the holes are partially blocked it will reduce the flow and increase the temperature.

hi, when shower is shut down all LEDS go out but water continues to flow until power is removed from unit.

Hello, it is most probably the main pcb 93590770

Hello the hot water is not coming through tried changing the TCO although ive noticed that the four control lights high medium etc are not working any ideas what else i can try many thanks Stew

Hi
Its will be the P C B valve

Regards