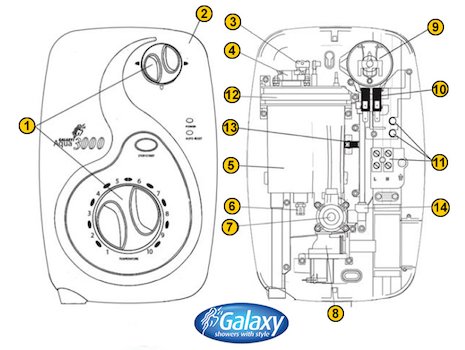 TAP FOR LARGER IMAGE IN NEW TAB

Official Stockist
Galaxy Aqua 3000 (Aqua 3000) Shower Spares
All available shower spares/replacement parts to fit the Galaxy Aqua 3000 (Aqua 3000).
Use the main diagram to identify the shower spare(s) you need to replace. Then use the table below to locate your relevant part(s).
Need any help or not what you're looking for? Try our unique Shower Spares Finder or you can contact us.
Do you have a question about the Galaxy Aqua 3000 (Aqua 3000)?

Click the button below to send a question to one of our expert members of staff and we will email you back a direct response. If we feel the information might be useful to other customers, we will also show your question below for others to see.

Shower just trips the electrics when power button pressed. Electrician tested and says problem is with shower rather than somewhere else...which part would be faulty in this case?
Thanks

Hello. it would normally be a failed heater tank element ( not 100% g/tee)

My Galaxy Aqua shower began to intermittently stop emitting water 3 03 and then start up again, finally giving up the ghost ie. no water flow at all.
All electrics to shower look fine, can you please help?

Hi
It will be the solenoid assembly item number SG06020

Hi I require a cover for a Galaxy 3000 shower but I see that the White is discontinued.
Would the satin finish be suitable for replacement of this
Thank you

Hello, yes it is the same size/fit, just a different colour, we do not have it in stock at the moment, delivery approx 7-10 days.

My Galaxy Aqua 3000 shower currently works only intermittently. The pilot light goes to "auto reset"after a while and goes cold. When the shower power is switched off the unit "gurgles" for a while. Does this indicate an airlock problem or something else ?
Kind regards,
Brian.

Hello, the auto reset is attached to the thermal cut out switch, you may have a faulty thermal cut out.

I have a galaxy aqua 3000 shower which is heating fine but seems to be leaking beneath the tank clamp, the tank clamp seems to be cracked, would replacing this solve the leak or is there anything else that needs replaced

Hello, it is hard to be 100% sure, but the clamp needs to be replaced first, We doubt the tank will be distorted, it is usually the clamp that goes first.

Hi, my 9.5kw shower won't switch on, i have power running to the unit & when i switch the shower on i get power to the solenoid valve but nothing happens. The power light doesn't come on either, any ideas what the problem could, thanks

It appears the solenoid has failed in the shut position which then will not allow the water to come through the shower the part to replace would be SG06020

Hi my auto reset button comes on wen switch my shower on but water runs cold

Hello, the thermal switch will need to be replaced part number SG06004.

i got galaxy3000 aqua working ok before but now it blow fuse up after running -3-4 minute
do thing u can help me
thanks
peston

Hello, it is probably a faulty heater tank element, the tank will need to be replaced.