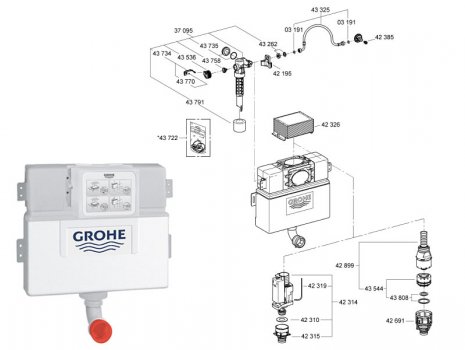 TAP FOR LARGER IMAGE IN NEW TAB
Official Stockist
Grohe WC concealed cistern (38422000) Toilet Spares
All available replacement spare parts to fit the Grohe WC concealed cistern (38422000).
Use the main diagram to identify the toilet spare(s) you need to replace. Then use the table below to locate your relevant part(s).
Need any help or not what you're looking for? You can contact us here.
There are 12 currently available spares for the Grohe WC concealed cistern (38422000).

These are sorted by diagram reference first (if available) and then by product code in numerical / alphabetical order:

Do you have a question about the Grohe WC concealed cistern (38422000)?

Click the button below to send a question to one of our expert members of staff and we will email you back a direct response. If we feel the information might be useful to other customers, we will also show your question below for others to see.

I have several Grohe concealed cistern toilets in my house which were installed from new some 16 years ago. Over the years the only part I have needed to replace on several of the toilets has been the Filling Valve (37095000).
However my downstairs toilet, which is the most used, is flushing weakly and has been getting weaker. I am guessing this is not a Filler Valve issue but more likely to be another part failing. Do you have an idea what this might be as I would like to order to the correct part in advance of a plumber's visit. Thank you

Hi Derek
It can be one of two parts they maybe the issue, it could be the flush valve or the button not putting enough air in to lift it up
If you would like to ring us to discuss we can advise the part you need
Regards
Trevor

Will this fit into a 500wx840h cabinet?

http://www.grohe.co.uk/en_gb/wc-concealed-cistern-0-82-m-6-3-l-38422000.html
Hello, copy the above link into your browser and it will show all the dimensions

Overflow running into pan when water level less than half way

Hello, it probably needs a new discharge piston, part number 43544.