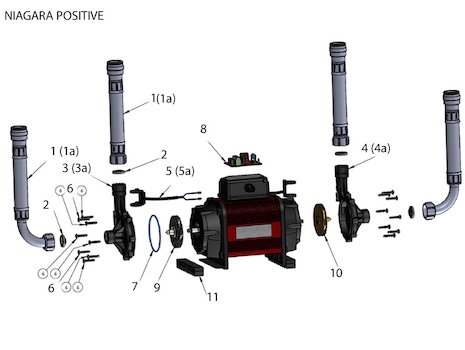 TAP FOR LARGER IMAGE IN NEW TAB

Official Stockist
Grundfos Watermill Niagara 1.5 bar twin impeller pump (96787422 / STC-1.5 C) Spare Parts
Grundfos Watermill 96787422 / STC-1.5 C
All available replacement spare parts to fit the Grundfos Watermill Niagara 1.5 bar twin impeller pump (96787422 / STC-1.5 C).
Use the main diagram to identify the spare part(s) you need to replace. Then use the table below to locate your relevant part(s).
Not what you're looking for? Try our unique Shower Spares Finder.
Need any help identifying the fault with your shower? Take a look at our handy Fault Finder page.
Otherwise please feel free to contact us.
No available spare parts found for this product.

Do you have a question about the Grundfos Watermill Niagara 1.5 bar twin impeller pump (96787422 / STC-1.5 C)?

Click the button below to send a question to one of our expert members of staff and we will email you back a direct response. If we feel the information might be useful to other customers, we will also show your question below for others to see.

Hi please can you tell me I have a shower pump, grundfos 96787422 / STC-1.5 C which continually runs.... Is this the flow switch fault?
If so please can I have the details, thank you!

Hello, either one of the floats (in the vertical outlet volute pipe) is stuck in the up postition or the electrical switch is stuck in the on postiton
the flat can be cleaned and made free, the electrical part can be tested for open/closed circuit
there are two types of switch BP438 clip on and BP446 held on with a cable tie.
We hope this info helps.

we have a watermill shower pump type PR50D that has started to pulsate when turned on. Have checked the shower hose, the water feeds and outlets and all seems OK. But it seems like there is no flow through the cold side when powered up. Your suggestions would be welcomed.

Hello, we think this may be a failed impeller or air in the system.