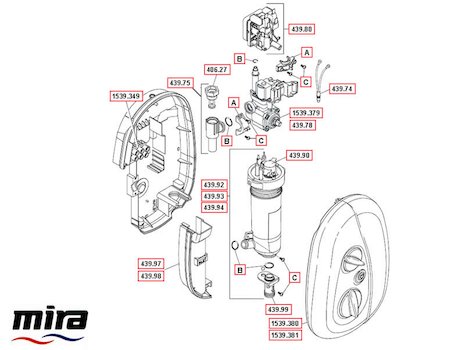 TAP FOR LARGER IMAGE IN NEW TAB

Official Stockist
Mira Go Electric Shower 9.5kW - white/chrome (1539.374) Shower Spares
All available shower spares/replacement parts to fit the Mira Go Electric Shower 9.5kW - white/chrome (1539.374).
Use the main diagram to identify the shower spare(s) you need to replace. Then use the table below to locate your relevant part(s).
Need any help or not what you're looking for? Try our unique Shower Spares Finder or you can contact us.
There are 10 currently available spares for the Mira Go Electric Shower 9.5kW - white/chrome (1539.374).

These are sorted by diagram reference first (if available) and then by product code in numerical / alphabetical order:

Do you have a question about the Mira Go Electric Shower 9.5kW - white/chrome (1539.374)?

Click the button below to send a question to one of our expert members of staff and we will email you back a direct response. If we feel the information might be useful to other customers, we will also show your question below for others to see.

Having purchased but not installed this shower yet, I would like to use a different shower head with various settings. Will this be suitable for this particular shower please.

Hello,. the only problem with using a multi mode head, could occur during the winter months when the flow rate out of the shower is at its lowest, the various sprays may not be very good.

I have what I think is the MI1 Mira Go model. The temperature now has to be turned higher and higher to get hot water, any ideas what's wrong? If I replace with this model is it a direct replacement in terms of size & fit?
Thanks

Hello, it sounds like one of the heater tank elements may have failed, the shower we are offer ing is a MK1, so should be a straight swap.
It is a 9.5kw, if yours is an 8.5kw you may have to get the cable and fuse checked, to see if it can handle the extra load.

We have an older version Go shower in our ensuite and doesn't get used much but we now only get cold water, no hot water at all!
Any advice before we replace it? Reluctant to buy another Mira after this happening after so little use!

Hello, it could be a faulty thermal switch (on top of the heater tank) wich has gone open circuit, or the pressure switch is no longer working,

After 2 years my Mira go 9.5kw shuts the water off after 2 mins is this a fault I can fix myself

Hello, this is probably a faulty solenoid, the part you need is 439.78