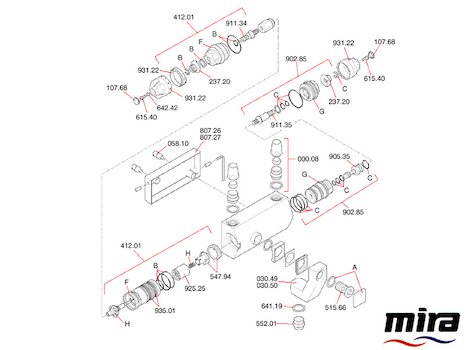 TAP FOR LARGER IMAGE IN NEW TAB

Official Stockist
Mira 915 Shower Spares
All available shower spares/replacement parts to fit the Mira 915.
Use the main diagram to identify the shower spare(s) you need to replace. Then use the table below to locate your relevant part(s).
Not what you're looking for? Try our unique Shower Spares Finder.
Need any help identifying the fault with your shower? Take a look at our handy Fault Finder page.
Otherwise please feel free to contact us.
There are 24 currently available spares for the Mira 915.

These are sorted by diagram reference first (if available) and then by product code in numerical / alphabetical order:

Want to modernise your shower, or perhaps it's seen better days and spares won't fix the problem?

The following product(s) are suitable complete replacements for the Mira 915, at great prices:

Do you have a question about the Mira 915?

Click the button below to send a question to one of our expert members of staff and we will email you back a direct response. If we feel the information might be useful to other customers, we will also show your question below for others to see.

Our shower Mira 915 is 25 years old, gets infrequent (guest shower room) use in a hard water area - mid Bedfordshire. It is now difficult to control both flow and temperature via knobs that are hard to rotate.
Is there a total replacement unit that matches the inlet pipe spacing of c.5inches/130mm? Or do you have other advice.
Very many thanks
Dick

Hello, there is not a direct replacement, but we still do seal kits and cartridges for the 915.
935.01 temp seal kit, 935.02 flow seal kit OR 412.01 temp cartridge, 902.85 exposed flow cartridge, 902.86 built in flow cart.