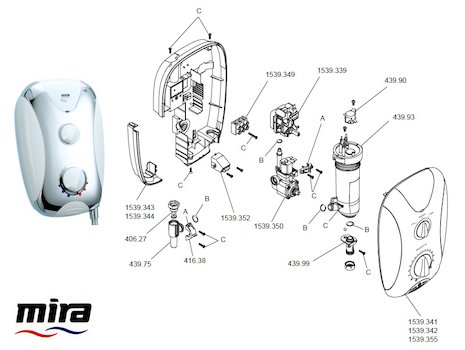 TAP FOR LARGER IMAGE IN NEW TAB

Official Stockist
Mira Play Mk 1 Shower Spares
All available shower spares/replacement parts to fit the Mira Play Mk 1.
Use the main diagram to identify the shower spare(s) you need to replace. Then use the table below to locate your relevant part(s).
Not what you're looking for? Try our unique Shower Spares Finder.
Need any help identifying the fault with your shower? Take a look at our handy Fault Finder page.
Otherwise please feel free to contact us.
There are 15 currently available spares for the Mira Play Mk 1.

These are sorted by diagram reference first (if available) and then by product code in numerical / alphabetical order:

Want to modernise your shower, or perhaps it's seen better days and spares won't fix the problem?

The following product(s) are suitable complete replacements for the Mira Play Mk 1, at great prices:

Do you have a question about the Mira Play Mk 1?

Click the button below to send a question to one of our expert members of staff and we will email you back a direct response. If we feel the information might be useful to other customers, we will also show your question below for others to see.

Hi,
In answer to a previously asked question you suggested either the thermal cut out sensor or the pressure switch as being the possible cause of my issues. It proved not to be the thermal cut out sensor, although that did improve things for a few days. Can you please fully identify what you mean by 'pressure switch' as it is not clear to me from the spares list.
Thanks,

Hello, the part is 1539.339 (rotary/pressure switch)

Hi I have lost the link between the front cover of the shower and the switch on the shower switch itself, is this a part you can supply?
Best regards
Rodney

Hello, the link arm is only part of the front cover assembly.

Hi, I have a Mira Play shower but it has stopped working. The power light on the front is on but when the stop/start button is pressed, nothing happens. Ive checked the water pressure and the power switch and both fine. Can you advise please. Thanks

Hello, this is most likely to be a faulty solenoid, you need to replace the 1539.350 flow valve.
Before buying a new part, please check that when you push the button, does the light on the pull cord go off?, if it does you have an electrical supply fault.

Hi, my shower has stopped working.
Fault: No high water pressure when shower is on just a trickle of water
Items checked: Full mains power; no water leaks; stop/start button works; full mains pressure; no blocked pipes/filters; 2 micro switches tested 0.6/0.1 ohms reading (is this correct?); solenoid tested 3.487 ohms (is this correct?); due to fault type I assumed the fault is not the heater or thermal cut-out assembly (TCO).
I pulled the shower components apart to check for the obvious (I'm an mechanical engineer) and all seems ok.
I had a problem about a year ago and replaced the 1 micro switch but that had a different fault. Can you help?
Kind regards
Steve

Hello, from your description, we think the flow valve is faulty, you need to replace part number 1539.350

My Mira shower works fine for approx 5-10mins, and then turns itself off. If you leave it for another 10mins it comes back on for a further 5-10mins. It has only recently started doing this, but has been installed for over 24months...

Hello, You have a failing solenoid, it is part of the flow regulator, part number 1539.350

Will the Mira response shower head holder fit a mira play 2011 unit? cant find mira play in the spares finder section. The parts look pretty similar. Thanks Kari

Hello, yes that is the correct one.

why wont the water get hot on my mira play shower

if it is stone cold, it could be the thermal switch or pressure switch , if it is luke warm it may be a faulty heater tank element.

Hello, my mira play shower continues to give water flow when it is turned off albeit not as much as when turned on. Your help would be appreciated Thank you

Hi
It would appear the solenoid valve, on top of the flow regulator, is failing to shut properly which is allowing water to pass through

My shower keeps going hot and cold if I move the dial it sometimes goes red hot or sometimes it goes freezing cold

Hello, it sounds like the pressure switch may be faulty. part 1539.349 may need to be replaced.

Our Mira play shower was working fine but this morning when we came to use it it wouldn't turn on. No water came out when you switch the power on at the bottom of the shower. However the power switch in the ceiling has a red LED and this goes off when the shower's power toggle switch is turned on. Any Ideas?

Hi, you have a supply fault, on the neutral supply, contact a qualified electrician so he can test the electrical supply cable.

Hi ive got a mira play electric shower ,when i turn it on the water is cold ,the switch on shower lights up could you please advise thank you

Hello, if it is stone cold, it is either the thermal switch or the pressure switch not working, an electrician will be able to test the thermal switch to eliminate one or the other.