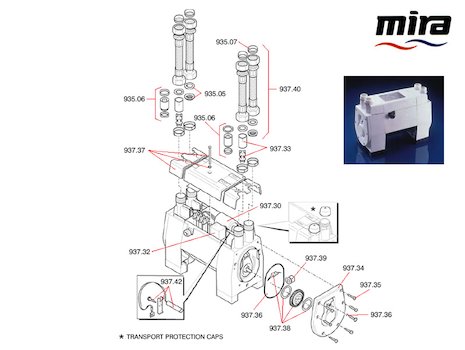 TAP FOR LARGER IMAGE IN NEW TAB

Official Stockist
Mira PPT3 1.4 bar twin impellor positive head Spare Parts
All available replacement spare parts to fit the Mira PPT3 1.4 bar twin impellor positive head.
Use the main diagram to identify the spare part(s) you need to replace. Then use the table below to locate your relevant part(s).
Not what you're looking for? Try our unique Shower Spares Finder.
Need any help identifying the fault with your shower? Take a look at our handy Fault Finder page.
Otherwise please feel free to contact us.
There are 7 currently available spares for the Mira PPT3 1.4 bar twin impellor positive head.

These are sorted by diagram reference first (if available) and then by product code in numerical / alphabetical order:

Do you have a question about the Mira PPT3 1.4 bar twin impellor positive head?

Click the button below to send a question to one of our expert members of staff and we will email you back a direct response. If we feel the information might be useful to other customers, we will also show your question below for others to see.

My PPT3 shower pump blows fuses.
The windings check out for continuity and appear to have the right value resistance.
The capacitor looks as if it has a problem. The plastic by the terminals is cracked open and it appears to bulge slightly in shape though this may be normal.
the impellers are clean and slightly stiff to move.
Any ideas?
Thanks.

Hello, the capacitor is obsolete, no stock left, so if itis the capacitor, you need a new pump, we suggest the Stuart turner showermate 1.8 twin 46407, it should be a straight swap.

Hello
My ppt3 pump has performed well. However recently the pump does not come on when the shower is used. It would kick in sometimes after a few minutes. When it didn't I used to knock /thump the pump and it would start. Now it won't come on at all.
I can hear a buzzing noise as if the motor is trying to come on but is restricted.
Any help/ advise will be appreciated.
Many thanks

Hello, it sounds like the motor brushes have worn out, they are not replaceable, you will need to fit a new pump, we suggest the Stuart turner showermate 1.8 bar 46407.
It should be a straight swap.

Hi, we have a Mira ppt 3 shower pump which is leaking from the bottom of the pump on the left hand side where you can take the side off. The leak is considerable but only when the shower is on. Please could you tell what spare we may need to buy in order to fix this.

Hello, the part you require is not a spare, so the whole pump will require replacing
http://www.showerspares.com/all_shower_pumps/all_twin_impeller_pumps/
the link above will take you to suitable reaplcements

Hello I have a Mira ppt3 shower pump and there is very little pressure and it seems to pulse a lot . Lots of pressure then half pressure. Can you help please It doesn't seem like there is a mains pressure problem

Hello, this sounds like starvation, a possible air lock? in the hot supply.

Hello, my Mira ppt3 is very noisy when running as if the bearings are worn, could this be the case? Thank you.

Hello, it is either worn bearings or air in the system, if it is the bearings you will need a new pump, we would recommend the Stuart turner 1.8bar Showermate as it should be a straight swap, the ppt-3 is no longer.

Hello
I have a Mira PPT3 pump. It has just started to play up. Once the shower is turned off, the pump goes off, on, off, on and won't stop that routine unless I switch the power off, leave it for a few moments and then switch the power on. As soon as the shower is used again, it goes back to this routine. Any ideas please?

Hello, this is probably air in the pipework, causing the float in the pump to bounce up and down, you need to get rid of the air and check the float (in the outlet of the pump) to make sure it is free to float up and down, there is one on either outlet of the pump.