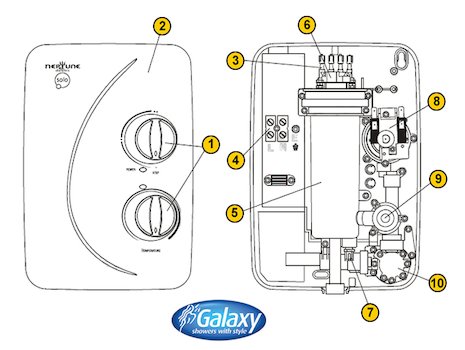 TAP FOR LARGER IMAGE IN NEW TAB

Official Stockist
MX Neptune Solo (Solo) Shower Spares
All available shower spares/replacement parts to fit the MX Neptune Solo (Solo).
Use the main diagram to identify the shower spare(s) you need to replace. Then use the table below to locate your relevant part(s).
Not what you're looking for? Try our unique Shower Spares Finder.
Need any help identifying the fault with your shower? Take a look at our handy Fault Finder page.
Otherwise please feel free to contact us.
Want to modernise your shower, or perhaps it's seen better days and spares won't fix the problem?

The following product(s) are suitable complete replacements for the MX Neptune Solo (Solo), at great prices:

Do you have a question about the MX Neptune Solo (Solo)?

Click the button below to send a question to one of our expert members of staff and we will email you back a direct response. If we feel the information might be useful to other customers, we will also show your question below for others to see.

i need a flex shower hose for a neptune solo shower have you got one

The replacement hose for the neptune solo will be part number SG06012.

Hi I have a Neptune exotic 9.5 kw shower. water flows but not hot just cold even at hottest temp, power light is not illuminated but the auto reset light is illuminated?

Hello, it is probably a failed thermal cut out SG06004

hi we have a neptune Exotic 9.5 KW shower and it suddenly will not turn on at all,any ideas?
regards

Hello, this will be a failed solenoid, part number SG06123

Hi
We have a Neptune solo shower and the shower comes on for all but 1 minute then automatically cuts out. If left for 30 mins to an hour it repeats this cycle. Could you advise on what if any part would need to be replaced?
Thanks in advance

Hello, you will need a new solenoid valve part number SG06123.

Hi , Hope you can help. I have a Neptune solo 8.5kw shower and i require a new hose. The existing chrome hose does not have conical ends just square 1/2" BSP female knurled nuts. Please can you advise on a new hose that would fit .Also if they are not supplied with o rings/washers please also advise on these part number also.
Thanks
Dave

Hello, hoses with nuts have been replaced with cone type, the SG06012 & SG06111 will both fit your shower.

My Neptune solo water pipe has cracked. Is this a standard pipe that can be replaced with any or is it shower specific?
I refer to the piece connecting to the shower outflow from the shower head.
Many thanks

Hello, the original hose in chrome is part number SG06012, although the connections are std 1/2" BSP so any hose will fit, as long as it is 1/2" BSP threads.

Neptune Solo 8.5kw Switched on pull switch power going to shower which hums but no water flow. Please advise if easy fix and which part could be the problem. Has been working well for two years. Many thanks

Hello, sorry for slow reply, the solenoid is at fault part number SG06123

My shower is wired in 6mm can I put a 9.5 kW in if not why not

Hello, it should be ok. but there are a lot of variables, the length of cable the routing, the protective device MCB, RCD etc, you really need to consult a qualified electrician.