Official Stockist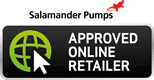 Salamander ESP55 CPV 1.5 bar single impeller pump (ESP55 CPV)
Product Description:

Salamander ESP55 CPV 1.5 bar single impeller pump.

This single pump boosts supplies to a variety of appliances from tank-fed systems, and is suitable for both positive and negative head systems. Salamander ESP55 CPV, supplied with isolating valve AV couplers.

To boost tank fed supplies to instantaneous electric showers, instantaneous electric water heaters, and washing machines/dishwashers – according to inlet pressure requirements. This pump will also power conventional showers, multi-function showers, showers with massage functions or champagne sprays.

This product has now been replaced by the: Salamander RP55SU 1.6 bar single impeller universal shower pump (RP55SU).

Not what you're looking for? See all Salamander shower pumps.

For advice on this or any product, please call 01452 619836, email us at support@showerspares.com, or see our contact page.

Do you have a question about the Salamander ESP55 CPV 1.5 bar single impeller pump (ESP55 CPV)?

Click the button below to send a question to one of our expert members of staff and we will email you back a direct response. If we feel the information might be useful to other customers, we will also show your question below for others to see.