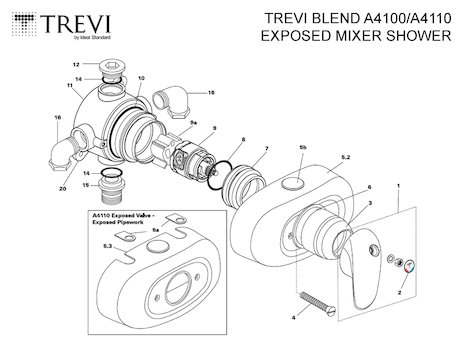 TAP FOR LARGER IMAGE IN NEW TAB

Official Stockist
Trevi Blend Exposed A4100/A4110 (Blend) Shower Spares
All available shower spares/replacement parts to fit the Trevi Blend Exposed A4100/A4110 (Blend).
Use the main diagram to identify the shower spare(s) you need to replace. Then use the table below to locate your relevant part(s).
Not what you're looking for? Try our unique Shower Spares Finder.
Need any help identifying the fault with your shower? Take a look at our handy Fault Finder page.
Otherwise please feel free to contact us.
There are 9 currently available spares for the Trevi Blend Exposed A4100/A4110 (Blend).

These are sorted by diagram reference first (if available) and then by product code in numerical / alphabetical order:

Do you have a question about the Trevi Blend Exposed A4100/A4110 (Blend)?

Click the button below to send a question to one of our expert members of staff and we will email you back a direct response. If we feel the information might be useful to other customers, we will also show your question below for others to see.

The shower is now getting very hot ,when the handle is in the downward position...previously it was nice and warm in this position. I now have to turn it further to the right ( more like 4 o'clock) to be able to stand underneath the shower head. As we have had it about 15 years this might be the second time the' thermostat' has packed up inside the workings . am I correct ?

I would first ensure that any isolation valves are fully open and that you have balanced hot and cold feeds into the shower.
If all okay, check for blockages or debris inside the valve and soak the cartridge in descaling solution. There may be a limescale build up if you live in a hard water area.
If still facing an issue, replacing the cartridge A951970NU11 should solve your issue.