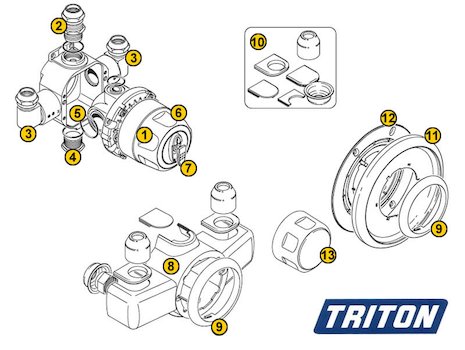 TAP FOR LARGER IMAGE IN NEW TAB

Official Stockist
Triton Aquasensation AS6000 AS7000 Pumped (Aquasensation) Shower Spares
All available shower spares/replacement parts to fit the Triton Aquasensation AS6000 AS7000 Pumped (Aquasensation).
Use the main diagram to identify the shower spare(s) you need to replace. Then use the table below to locate your relevant part(s).
Need any help or not what you're looking for? Try our unique Shower Spares Finder or you can contact us.
There are 6 currently available spares for the Triton Aquasensation AS6000 AS7000 Pumped (Aquasensation).

These are sorted by diagram reference first (if available) and then by product code in numerical / alphabetical order:

Do you have a question about the Triton Aquasensation AS6000 AS7000 Pumped (Aquasensation)?

Click the button below to send a question to one of our expert members of staff and we will email you back a direct response. If we feel the information might be useful to other customers, we will also show your question below for others to see.

How do I change the washer on my shower triton aqua sensation 6000.as it dripping all the time

Hello, you will need a new cartridge if it is dripping from the shower head.

I have a Triton Aquasensation Combi HP. The other day , while the shower was not in use, there was a sharp noise and water sprayed out , making a fine mess.
After turning off the water I found the Temperature Knob in the shower tray, it seems that the acrylic spigot on which the knob is fitted has sheated off . Is there a spare available? or if I send the whole assembly to you can you repair it> sincerely, Mervyn J Thomas.

Hello, you will need a new cartridge 83304970

Hi I have a triton aquasensation power shower which i cant turn off completely. It seems the switch has gone. Is it possible to get this part

Hello, you will have to replace the cartridge part number 83305100