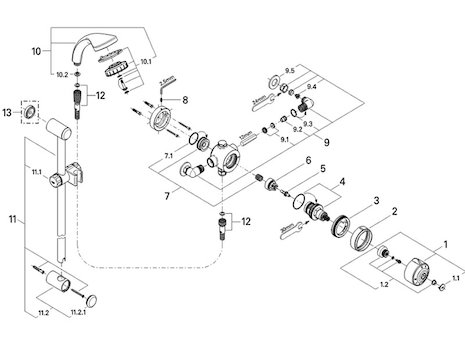 TAP FOR LARGER IMAGE IN NEW TAB
Official Stockist
Grohe Avensys Single Control Exposed Valve Only (34034 000) Shower Spares
All available shower spares/replacement parts to fit the Grohe Avensys Single Control Exposed Valve Only (34034 000).
Use the main diagram to identify the shower spare(s) you need to replace. Then use the table below to locate your relevant part(s).
Need any help or not what you're looking for? Try our unique Shower Spares Finder or you can contact us.
There are 14 currently available spares for the Grohe Avensys Single Control Exposed Valve Only (34034 000).

These are sorted by diagram reference first (if available) and then by product code in numerical / alphabetical order:

Do you have a question about the Grohe Avensys Single Control Exposed Valve Only (34034 000)?

Click the button below to send a question to one of our expert members of staff and we will email you back a direct response. If we feel the information might be useful to other customers, we will also show your question below for others to see.

I have this shower unit and it is 10 years old. The shower works perfectly but when I turn it off the valve slower turns back on starting with a drip and then a dribble. After several attempts I can eventually stop this problem but I would obviously like to fix this. I have a heating engineer neighbour who says if I get a part he will fit it. Could you assist with this matter

Hello, the part you need to replace is 47600

Hello,
I have a Grohe Avensys single control exposed valve (34034) roughly 8 years old.
Hot water temperature at inlet is good, both hot and cold pressures at inlet are good, temperature control screw has been adjusted to maximum, but water is only lukewarm and getting cooler by the day.
Have you any suggestions please?
Many thanks

Hello, you need to replace both the stat 00798 & slider 07587, and grease the seal in the body, use silicone grease only, this should cure the temperature problems.

grohe avensys exposed
sudden loss of hot water at outlet ,have hot water at inlet , good cold water flow .
if i reduce cold water pressure to shower by opening bath tap hot water returns with good flow .
haven't stripped yet but thinking non return valve failure ?

hello, sorry for slow reply, I agree that it is probably a sticky nrv.