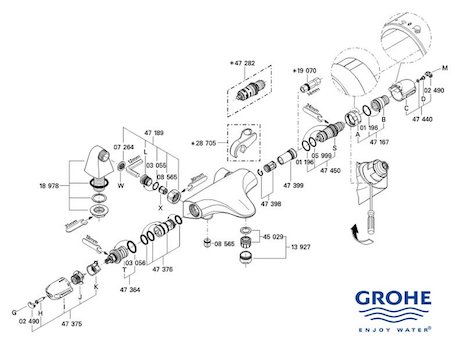 TAP FOR LARGER IMAGE IN NEW TAB
Official Stockist
Grohe Grohtherm Auto 3000 (34479 000) Shower Spares
All available shower spares/replacement parts to fit the Grohe Grohtherm Auto 3000 (34479 000).
Use the main diagram to identify the shower spare(s) you need to replace. Then use the table below to locate your relevant part(s).
Need any help or not what you're looking for? Try our unique Shower Spares Finder or you can contact us.
There are 22 currently available spares for the Grohe Grohtherm Auto 3000 (34479 000).

These are sorted by diagram reference first (if available) and then by product code in numerical / alphabetical order:

Do you have a question about the Grohe Grohtherm Auto 3000 (34479 000)?

Click the button below to send a question to one of our expert members of staff and we will email you back a direct response. If we feel the information might be useful to other customers, we will also show your question below for others to see.

neither the bath or the shower which run off this mixer tap will run more than luke warm unless a different cold tap is turned, say the bathroom basin. The rate of flow of cold water in the basin can then be used to control the teperature of the water in the bath. I have cleaned the filters and reassembled the tap head. Do you think the thermoelement cartridge needs replacing?

Hi, you need to make sure the Non return valves are working, check if the hot feed goes cold when running the shower, if they are ok and the hot side remains hot, then you need to replace the thermostatic cartridge.