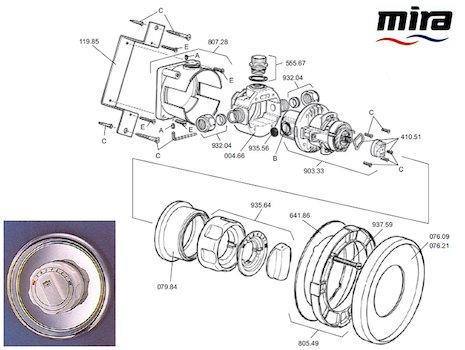 TAP FOR LARGER IMAGE IN NEW TAB

Official Stockist
Mira Excel B (1990-1996) Shower Spares
All available shower spares/replacement parts to fit the Mira Excel B (1990-1996).
Use the main diagram to identify the shower spare(s) you need to replace. Then use the table below to locate your relevant part(s).
Not what you're looking for? Try our unique Shower Spares Finder.
Need any help identifying the fault with your shower? Take a look at our handy Fault Finder page.
Otherwise please feel free to contact us.
There are 17 currently available spares for the Mira Excel B (1990-1996).

These are sorted by diagram reference first (if available) and then by product code in numerical / alphabetical order:

Want to modernise your shower, or perhaps it's seen better days and spares won't fix the problem?

The following product(s) are suitable complete replacements for the Mira Excel B (1990-1996), at great prices:

Do you have a question about the Mira Excel B (1990-1996)?

Click the button below to send a question to one of our expert members of staff and we will email you back a direct response. If we feel the information might be useful to other customers, we will also show your question below for others to see.

Hi,
I need a new mounting bracket for my Mira Excel.
does item 405.49 include both the disks shown in the exploded image? or must 641.86 be purchased separate?
Thanks,

Hello, 805.49 is both parts, the plastic bracket and the foam seal.

Where can I buy a white shower hose for my Mira excel shower installed 1992 I have not had problems replacing it before. Thank you.

Hello, the part number is 150.57, type this code into the search box on the home page of our website.