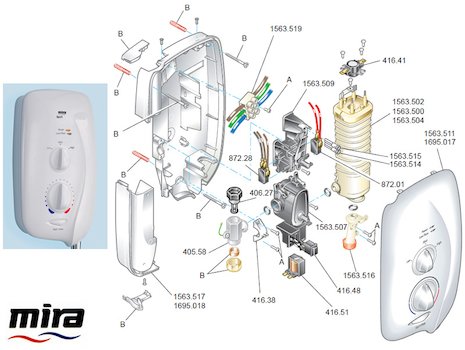 TAP FOR LARGER IMAGE IN NEW TAB

Official Stockist
Mira Sport (2006-2012) Shower Spares
All available shower spares/replacement parts to fit the Mira Sport (2006-2012).
Use the main diagram to identify the shower spare(s) you need to replace. Then use the table below to locate your relevant part(s).
Not what you're looking for? Try our unique Shower Spares Finder.
Need any help identifying the fault with your shower? Take a look at our handy Fault Finder page.
Otherwise please feel free to contact us.
There are 22 currently available spares for the Mira Sport (2006-2012).

These are sorted by diagram reference first (if available) and then by product code in numerical / alphabetical order:

Want to modernise your shower, or perhaps it's seen better days and spares won't fix the problem?

The following product(s) are suitable complete replacements for the Mira Sport (2006-2012), at great prices:

Do you have a question about the Mira Sport (2006-2012)?

Click the button below to send a question to one of our expert members of staff and we will email you back a direct response. If we feel the information might be useful to other customers, we will also show your question below for others to see.

Hi I have a Mira Sport 0.9 electric shower ,the red pressure relief ball has come out of it's plastic tank(part # 1563.516) and am unable to get the red ball back in situ,therefore do I need to replace the aforementioned plastic tank? I have checked and there is no blockage or kink in the shower hose,thanks

Hello,
Yes once the ball has come out due to a back pressure build up, they often cannot be refitted. On these showers, you have to replace the heater tank as a whole!
The most common reasons for this failing is due to a blocked head nozzles such as scale or mould. Or a suddenly bent shower hose whilst the shower was on!
Regards,
Dan S

Hi, My shower which is a Mira Sport 9kw code underneath shower is J95B 17/11 2006-2012. The shower seems to stay on for a short while then it cuts out, after several minutes it will come back on but will then cut out again. The low flow light comes on. Could it be lime scale build up inside of the shower unit.
Regards Rob

If by 'cut out' you mead the flow, then the solenoid is failing, if you mean the heat cuts out, it may be the thermal cut out or pressure switch (flow valve)

I have a Mira Sport 9.0 Shower with the following markings underneath: J95B 42/11
I purchased it in early 2012 so I suspect that last set of numbers is the manufacture date.
For the last 10 days or so the water will suddenly go stone cold without any warning at all, and with out the low flow light coming on, in the middle of a shower. Then after a random length of time it will warm up again, for a period, and then go cold again. A local electrician has had a look at it and thinks that the thermostat is faulty?
My question is whether this is a right diagnosis and then is the part; Mira Thermal Switch Assembly (416.41) the correct replacement part?
Is there anything else that could be faulty that would cause a sudden intermittent loss of water temperature.
The local electrician is recommending replacing the whole shower unit, which I would like to avoid if at all possible!
Yours truly,

Hello, it sounds like the 416.41 thermal switch has become 'over sensitive' and is cutting in and out, replacing it should sort it out.

i have a mira sport shower that is leaking between the switch assembly and the tank.what part required?

Hello
You will require the flow valve and switch assembly if fitted before 2010 as the valve has been modified models 7.5,9.8,9.00 kw showers

I bought a Mira sport electric shower in February 2006, should I buy parts for the one up to 2005 or parts for 2006 onwards?
I was using the shower and the water flow dropped slightly and the water went cold, will it be the heater tank?
thanks

Hello, you need to check the shape of the push button on the cover, an oval symmetrical button is the older version, a tapered button is the newer one, but I am not sure what is wrong with your shower, a guess would probably be a faulty flow valve.