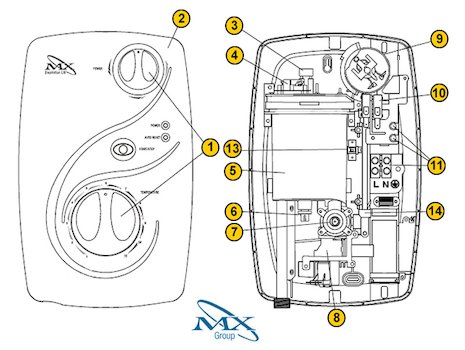 TAP FOR LARGER IMAGE IN NEW TAB

Official Stockist
Galaxy/MX Inspiration LXi -white (Inspiration LXi) Shower Spares
All available shower spares/replacement parts to fit the Galaxy/MX Inspiration LXi -white (Inspiration LXi).
Use the main diagram to identify the shower spare(s) you need to replace. Then use the table below to locate your relevant part(s).
Need any help or not what you're looking for? Try our unique Shower Spares Finder or you can contact us.
Want to modernise your shower, or perhaps it's seen better days and spares won't fix the problem?

The following product(s) are suitable complete replacements for the Galaxy/MX Inspiration LXi -white (Inspiration LXi), at great prices:

Do you have a question about the Galaxy/MX Inspiration LXi -white (Inspiration LXi)?

Click the button below to send a question to one of our expert members of staff and we will email you back a direct response. If we feel the information might be useful to other customers, we will also show your question below for others to see.

The MX Inspiration LXi shower heats up and gets very hot. I have the shower power setting on low but when I turn the temperature control knob it does not seem to alter the water temperature or flow.

Hello, please check the shower head for blockage, if the head is not blocked, then the flow valve is not working, replace the flow valve, SG08125

hi. ever since purchase the flow rate dial has been quite stiff.any way its about I year old now and xmas eve the knob snapped off.obviously I could fit a new knob but the valve would remain stiff.is it within a reasonable diy practitioners realms to replace it ?if so what do I need?
thanks.tjp

Hello, you will need part number SG08125

Hi there - I need to replace the shower head of an MX Inspiration LXi. I can see the head part on the web-page, but I also need the hose part - where do I find that?
Are they generic/standard diameter for attachment to the heater unit?
Gavin

Hi, we have now added the hoses to the LXi list, SG06012 chrome and SG06111 white

Hi there,
My shower will run on the cold setting but as soon as I turn it to heat, the fuse box trips out.
Any ideas please?
Best regards, Paul.

Hello, you have a dead short in the heater tank, you need to replace the elements.

Water has suddenly come out of the item no.6 on your diagram, opposed to coming out of the hose. Is it possible to unscrew old pressure valve and replace with a new one easily to solve the problem please?

Hello, you will need to fit a new PRV part number SG06006, the reason it blew in the first place, is usually due to a build up of back pressure, blocked head or kinked hose.

Hi, my shower switches on ok with the on/off button although the power light doesnt come on? Also the water comes out (pressure quite low) and gets hot but there is a loud whirring/whining noise coming from inside the unit.

Hello, this sounds like a badly scaled up heater tank, you may need to replace the heater tank assembly

Water is coming out of the 'overflow/over pressure' from the heater. Please can you suggest remedy(s)
Thank you

Hello, you need to replace the PRD SG6006, it may have blown, due to a blocked shower head or the hose may have been kinked

My MX INSPIRATION LXi will not stop running water. Electricity supply on or off it still runs. Works OK ie hot water but despite repeatedly pressing ON/OFF switch water still keeps flowing. Have tested coil in solenoid and at 4.18 ohms seems OK. ON off switch appears to be OK mechanically but who knows?
Any guidance much appreciated.

Hello, with th info supplied We would think that the Solenoid is jammed open, you will need to replace the valve, part number SG06020