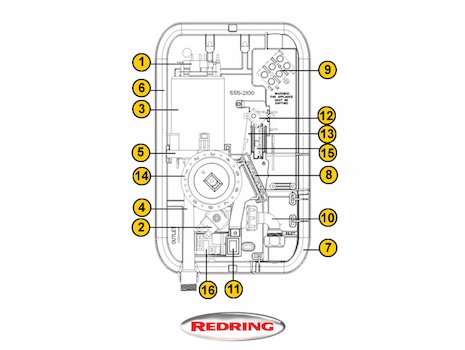 TAP FOR LARGER IMAGE IN NEW TAB

Official Stockist
Redring Expressions 500S (Expressions 500S) Shower Spares
All available shower spares/replacement parts to fit the Redring Expressions 500S (Expressions 500S).
Use the main diagram to identify the shower spare(s) you need to replace. Then use the table below to locate your relevant part(s).
Not what you're looking for? Try our unique Shower Spares Finder.
Need any help identifying the fault with your shower? Take a look at our handy Fault Finder page.
Otherwise please feel free to contact us.
There are 12 currently available spares for the Redring Expressions 500S (Expressions 500S).

These are sorted by diagram reference first (if available) and then by product code in numerical / alphabetical order:

Do you have a question about the Redring Expressions 500S (Expressions 500S)?

Click the button below to send a question to one of our expert members of staff and we will email you back a direct response. If we feel the information might be useful to other customers, we will also show your question below for others to see.

I have a redring expressions 500s which about 6-7 years old when switched on it just pulsates then switches off after 3-4 seconds any ideas please what the problem can be thank Kieith

it could be the flow valve is faulty which is then causing the solenoid valve to shut down straight away, link below shows the internals to the shower
https://www.showerspares.com/redring_shower_spares/redring_all/redring_expressions_500s_expressions_500s/

Redring Expressions 500S Electric Shower 8.5kw
The overheat light on the unit is flashing and making a sparking sound when the shower is in use (obviously I am terrified to use the shower now!). Any idea what the problem could be?
Many thanks

Hello, you need an electrician to check this out, it could be a few things causing this, the overheat light is connected to the thermal cut out on the top of the heater tank.
do not use the shower until an electrician has checked it over.