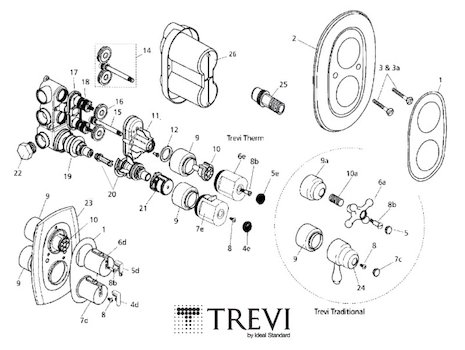 TAP FOR LARGER IMAGE IN NEW TAB

Official Stockist
Trevi Therm MK2 Built-in A3000 (Therm A3000) Shower Spares
All available shower spares/replacement parts to fit the Trevi Therm MK2 Built-in A3000 (Therm A3000).
Use the main diagram to identify the shower spare(s) you need to replace. Then use the table below to locate your relevant part(s).
Not what you're looking for? Try our unique Shower Spares Finder.
Need any help identifying the fault with your shower? Take a look at our handy Fault Finder page.
Otherwise please feel free to contact us.
There are 18 currently available spares for the Trevi Therm MK2 Built-in A3000 (Therm A3000).

These are sorted by diagram reference first (if available) and then by product code in numerical / alphabetical order:

Do you have a question about the Trevi Therm MK2 Built-in A3000 (Therm A3000)?

Click the button below to send a question to one of our expert members of staff and we will email you back a direct response. If we feel the information might be useful to other customers, we will also show your question below for others to see.

Hello I have a trevi therm mk2 built in a3000 and when i turn it on the shower doesn't flow with water until I turn it round to the hot setting and it just stays hot, do I just need a new thermostatic cartridge?

Hello, it may need a new cartridge, but please check the filters on the cartridge before buying a new cartridge.

We have a trevi therm built in shower. When we try to turn the on/off dial it has become increasingly stiff and the water doesn't shut off completely. Hot water will drop through. We have taken it apart and can turn it off using a screw driver on one of the cogs. What part do we need to replace to solve this problem?

Hello, we suggest you replace the 2 x 952501 flow cartridges and the gear box set A963067.
Regards

Hi i have a trevi therh built in shower post 97. the shower works fine when cold water is asked for but turn it up to hot and it stops. i have changed the hot water feed cartridge. i can't find a way to removed the plastic parts that sit in front of the thermostatic cartridge.

Hello, either the gears are slipping or the filters are blocked on the temp cartridge.
the plastic ertension has a black circlip on it, that has to be rotated to unlock it from the brass cartridge

Hi, I believe I have the Trevi therm 3000 - the middle of the breakdown picture shown; It has the knobs with just 2 flat surfaces on them. It was purchased and fitted in 2002. It is a surface mounted type.
I would like to mount it flush behind a false panel. Therefore do I need new face plate(s) to do this?

Hello, we do not think this is posible, can you e-mail a photo of the current shower so we can check it out for you.

I have 2 Trevi Therm built in A3000 shower unit 1 valve there no control over the hot water it way to hot and the other the shower head just keep driping all the time
regard david

Hello, the first will need a new temperature cartridge, the 2nd will need a pair of flow cartridges and maybe a gearbox set.

I have a Trevi mixer/thermostat shower fitted about 14 years ago. Separate flow and temp controls, looks like a Therm 3000 series.
It has started leaking a bit, the flow doesn't shut off.
Is there a special tool available to remove the cartridge.
Can I identify the part number of the cartridge without removing it, is the shower model number shown somewhere?

Hi
There are 2 flow cartridges side by side, item number 952501nu11 with 2 gears on top item number A960489nu

Kind Regards

I need to replace the shower head and hose. What do you recommend?

Hello, the hose is part E4745AA, the shower head is B9403AA

How do you replace the seals?

Hi
Unfortunately there is not a seal kit for your shower, the only way to either cure a leak or a seal failure on the thermostatic cartridge is by replacing the cartridge completely