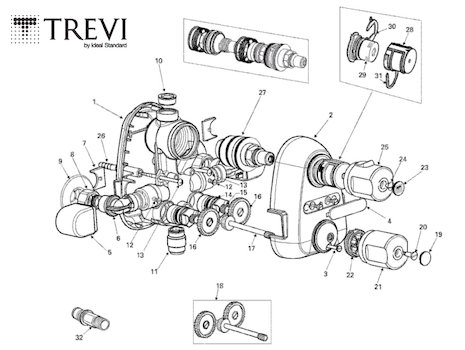 TAP FOR LARGER IMAGE IN NEW TAB

Official Stockist
Trevi Therm MK2 Exposed A3200 (A3200) Shower Spares
All available shower spares/replacement parts to fit the Trevi Therm MK2 Exposed A3200 (A3200).
Use the main diagram to identify the shower spare(s) you need to replace. Then use the table below to locate your relevant part(s).
Not what you're looking for? Try our unique Shower Spares Finder.
Need any help identifying the fault with your shower? Take a look at our handy Fault Finder page.
Otherwise please feel free to contact us.
There are 15 currently available spares for the Trevi Therm MK2 Exposed A3200 (A3200).

These are sorted by diagram reference first (if available) and then by product code in numerical / alphabetical order:

Do you have a question about the Trevi Therm MK2 Exposed A3200 (A3200)?

Click the button below to send a question to one of our expert members of staff and we will email you back a direct response. If we feel the information might be useful to other customers, we will also show your question below for others to see.

Hi
My Trevi therm 320 Drips at the shower head , is it the thermostatic
cartridge or one of the flow cartridge's

Hello, it will be the flow cartridges or the gears slipping.

Hello, I have fitted new cartridges to a trevi therm a3200 and refitted the gear cogs but notice that the nylon teeth can rotate even if the brass middle is not moving. I need to know if the nylon teeth are meant to slip round the brass middle or should they be fixed to it. If mine are slipping round, do I need new ones.
Thank you,
Kevin

as the spindle rotates the plastic bush at the base of spindle with make the cogs rotate to enable the flow cartridges to open

Shower not mixing , no hot water. Has recently been gravity shower now off combi boiler.

Hello, it is probably worn seal inside the temperature cartridge, you will need a new cartridge, part number S960134nu if it is a MK2.