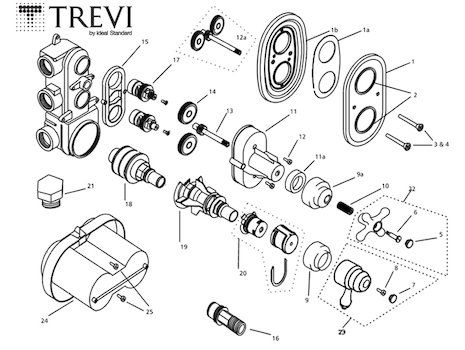 TAP FOR LARGER IMAGE IN NEW TAB

Official Stockist
Trevi Therm Traditional E3115AA (Therm Traditional) Shower Spares
All available shower spares/replacement parts to fit the Trevi Therm Traditional E3115AA (Therm Traditional).
Use the main diagram to identify the shower spare(s) you need to replace. Then use the table below to locate your relevant part(s).
Not what you're looking for? Try our unique Shower Spares Finder.
Need any help identifying the fault with your shower? Take a look at our handy Fault Finder page.
Otherwise please feel free to contact us.
There are 16 currently available spares for the Trevi Therm Traditional E3115AA (Therm Traditional).

These are sorted by diagram reference first (if available) and then by product code in numerical / alphabetical order:

Do you have a question about the Trevi Therm Traditional E3115AA (Therm Traditional)?

Click the button below to send a question to one of our expert members of staff and we will email you back a direct response. If we feel the information might be useful to other customers, we will also show your question below for others to see.

Hi. I have a Trevi shower valve. It looks like a traditional A3000 or E3115aa. How can I tell which model shower I have.
The problem is the temperature control has very limited range. Hot or not within a very small range of movement of the control lever.
Is this simply the replacement of the thermostat cartridge?

Hello,
if you send us a photo of your shower to support@showerspares.com we will be able to identify it for you and tell you the correct part to purchase.
Thanks.

Re Trevi Therm Traditional E3115AA
I need a gear set with spindle I see you sell the desperate but do you still do the set? In Q&A on your site it looks like A963067

Hello, the set A963067 has the wrong length spindle in it, so you have to buy them as individually.

Dear Sir or Madam,
I have Trevi Therm Traditional shower E3115AA. I cannot turn off the shower once its on. I have for now managed it with great difficulty but I wonder what part needs replacing ?

Hello, it will need either a new gear set or new flow cartridges (or both)
A963067 gear set or 2 x A952501 carts

I have a Trevi Traditional shower. It constantly dripped when turned off. It would eventually stop dripping but the dial would keep turning towards the off and when the temperature was turned to cold. Now when it's on the temperature won't adjust and stays hot. Could you give me an idea of what part is needed please.

Dear Sir/Madam,
I have a Trevi E3115 which is constantly dripping when switched off. What part do I need to replace?
Regards,

Hello, you need to replace the 2 x A952501 and the gearbox A963067.

I have a Trevi traditional 311, recently the shower has not been getting as hot as is used to be, could you please advise what the problem may be.

Hello, it could be blocked filters on the temperature cartridge, or the temperature cartridge is failing.