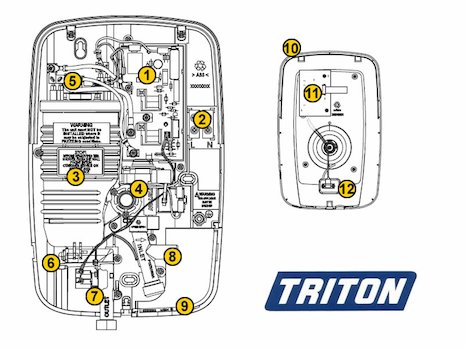 TAP FOR LARGER IMAGE IN NEW TAB

Official Stockist
Triton Opal 3 (Opal 3) Shower Spares
All available shower spares/replacement parts to fit the Triton Opal 3 (Opal 3).
Use the main diagram to identify the shower spare(s) you need to replace. Then use the table below to locate your relevant part(s).
Need any help or not what you're looking for? Try our unique Shower Spares Finder or you can contact us.
There are 15 currently available spares for the Triton Opal 3 (Opal 3).

These are sorted by diagram reference first (if available) and then by product code in numerical / alphabetical order:

Do you have a question about the Triton Opal 3 (Opal 3)?

Click the button below to send a question to one of our expert members of staff and we will email you back a direct response. If we feel the information might be useful to other customers, we will also show your question below for others to see.

My shower sometimes switches from hot to cold whilst I am using the shower. The red light comes on for the cold water. Do I need a new thermostat ?

Hello, if it goes very hot to cold, it means the flow rate is too low (partially blocked shower head), if it goes from a normal temp to cold, then the thermal switch is faulty, we hope this helps,

Hi I have triton opal 3
And it's always running hot it doesn't matter what temp I run it on hot or cold it's always boiling do u no what part I need thanks

hello, hot only indicates a reduced flow rate, is the shower head a bit blocked up, does the flow rate change when you turn the flow valve down to the blue section.
Basics are, high flow = cool, slower flow = hotter, so you have a flow problem.

Hi,
I have a Triton Opal and it has stopped producing heated water, unless you select heat option two and turn dial to numbers 8-10 and then get hot water. Is this likely to be a faulty heater can or something else?

Hello, yes you are are only running on one heater element, you need to test the heater can and also the micro-switches.