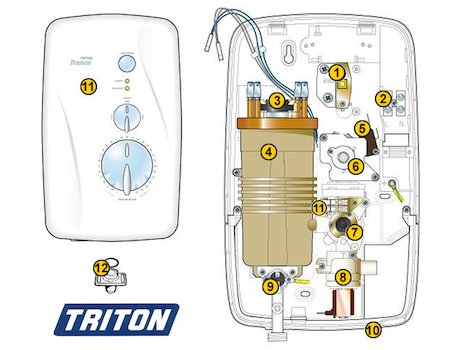 TAP FOR LARGER IMAGE IN NEW TAB

Official Stockist
Triton Trance (Trance) Shower Spares
All available shower spares/replacement parts to fit the Triton Trance (Trance).
Use the main diagram to identify the shower spare(s) you need to replace. Then use the table below to locate your relevant part(s).
Need any help or not what you're looking for? Try our unique Shower Spares Finder or you can contact us.
There are 16 currently available spares for the Triton Trance (Trance).

These are sorted by diagram reference first (if available) and then by product code in numerical / alphabetical order:

Do you have a question about the Triton Trance (Trance)?

Click the button below to send a question to one of our expert members of staff and we will email you back a direct response. If we feel the information might be useful to other customers, we will also show your question below for others to see.

Hi. My Triton Trance (first generation model) is faulty. Can you recommend a replacement electric shower unit, with approximately the same dimensions (so it should fit the gap in our tiled bathroom wall). Many thanks.

Hello, we would recommend the Triton T80z FASTFIT, this unit is 334 x 225, your old unit was 338 x 208mm so this is the nearest size/shape

Hi, I think I need a new PRD for my 1st generation Triton Trance shower. I've replaced the shower head and there is no blockage in the pipe but water is still coming out of the little plastic pipe behind the outlet pipe. I can't work from your diagram though where no12 is on my unit???

Hello, the PRD is held in place by the outlet pipe, directly behind no9.You have to remove the outlet pipe to reveal the PRD, the PRD part number is 83301330

Please can you help I have a triton trance 1st generation I can turn the heating control up to the highest setting 15 and have a warm shower but I used to only have to set the temperature control to the middle 8 I have been told it could be one of the heating elements has failed and is only working on half power. Please can you tell me if there is anything else it could be before I order a new heater can.
Regards
Antony

Hello, it may also be a faulty micro switch, it would be best to get an electrician to test it out.

Hello I have a triton trance 9.5kw that has suddenly given up heating the water. It is coming out Luke warm, am I right in assuming the element would need replacing?
Many thanks

Hi
It could be the element but also it could be the Thermal cut out. To prove which one it is it would need an electrician to test both of them with a multi meter and this will indicate the faulty item

Do you sell a replacement shower head for the original Triton Trance or a compatible unit? (In white) Many thanks!!

Hello, We would suggest part number 88500032 as an ideal replacement.

we have aTriton Trance shower and the terminal block part 2 on diagram has "cooked" .Can you tell lme what may have caused this ?

Hello, this is caused by loose terminal screw connections, if the screws in the block are not very tight, the electrical resistance increases and cause heat build up, the end result over a period of time is overheating.
When you fit the new block make sure the screws are tight, but re check them after a week or so as the copper wire may have compressed very slightly and the screws may need nipping up.