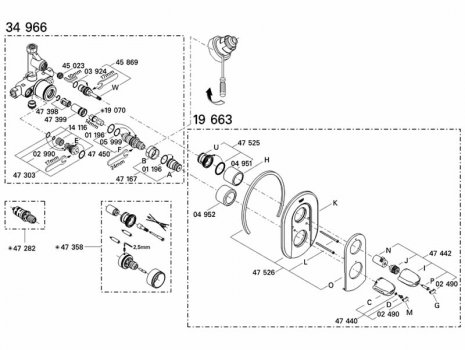 TAP FOR LARGER IMAGE IN NEW TAB
Official Stockist
Grohe Grohtherm Auto 3000 (19663 000) Shower Spares
All available shower spares/replacement parts to fit the Grohe Grohtherm Auto 3000 (19663 000).
Use the main diagram to identify the shower spare(s) you need to replace. Then use the table below to locate your relevant part(s).
Need any help or not what you're looking for? Try our unique Shower Spares Finder or you can contact us.
There are 27 currently available spares for the Grohe Grohtherm Auto 3000 (19663 000).

These are sorted by diagram reference first (if available) and then by product code in numerical / alphabetical order:

Do you have a question about the Grohe Grohtherm Auto 3000 (19663 000)?

Click the button below to send a question to one of our expert members of staff and we will email you back a direct response. If we feel the information might be useful to other customers, we will also show your question below for others to see.

i have a grohtherm 3000 and shower is only warm, also the head of the shower drips constantly, Can you advise what parts i need to fix it. Thanks

Hello, you will need both cartridges, part numbers are, flow = 45869 temperature = 47450

Hello, my customers shower has started to run colder! i've checked the cylinder has hot water and a new pump has been installed a few months ago. could it be the non return valves not letting enough hot water through?

Hello, it is always worth checking the NRV's, but it is most likely to be worn seals on the cartridge, the seals are not available on their own, so a new cartridge will be required.

Grohe Grohetherm 3000 (19663 000) This shower is pumped by a Salamander RSP75, the water is scalding hot and when temp dial is turned to cold, flow stops and pump switches off. Is this a faulty cartridge or is the cold flow being blocked somewhere along the pipework, maybe on a filter?

Hello. it would appear that you have a blockage somewhere, the shower is going into thermal shutdown, when you select anything other than full hot. The blockage is on the cold supply.
start with the filters and non return valves on the 19663.
Cheers

Can't get shower very hot on grohe 3000 thank you for any help

Hello, the most likely casue is the Thermostatic cartridge, it will need to be replaced.

Our mixer valve grohetherm 3000 19663 seems to be allowing cold water to bypass the valve to flow via the hot water outlet into the hotwater tank.
Which part is faulty and needs changing?

If the cold supply is passing into the hot then it would be adviseable to replace the non-return valve on the hot supply. The part number for the non-return valve is 1411600M which will give you a pair.