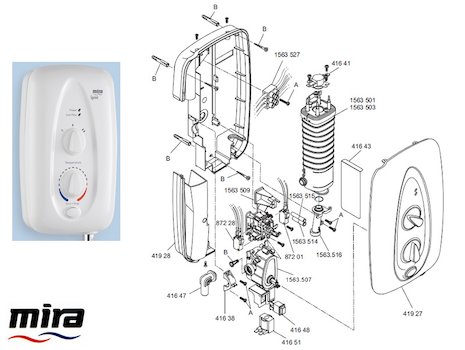 TAP FOR LARGER IMAGE IN NEW TAB

Official Stockist
Mira Sprint Mk2 (2000-2006) Shower Spares
All available shower spares/replacement parts to fit the Mira Sprint Mk2 (2000-2006).
Use the main diagram to identify the shower spare(s) you need to replace. Then use the table below to locate your relevant part(s).
Not what you're looking for? Try our unique Shower Spares Finder.
Need any help identifying the fault with your shower? Take a look at our handy Fault Finder page.
Otherwise please feel free to contact us.
There are 17 currently available spares for the Mira Sprint Mk2 (2000-2006).

These are sorted by diagram reference first (if available) and then by product code in numerical / alphabetical order:

Want to modernise your shower, or perhaps it's seen better days and spares won't fix the problem?

The following product(s) are suitable complete replacements for the Mira Sprint Mk2 (2000-2006), at great prices:

Do you have a question about the Mira Sprint Mk2 (2000-2006)?

Click the button below to send a question to one of our expert members of staff and we will email you back a direct response. If we feel the information might be useful to other customers, we will also show your question below for others to see.

I have a Mira Sprint Mk2 it drips when turned off

Some dripping shortly after using the shower is normal as there is water remaining inside the hose and head which can cause occasional drips.
However, if this is constant, I would suggest to replace the solenoid coil 416.51 which should resolve the issue.

I have a Mira Sprint 9.5 which has recently started to 'cut off' mid-way through a shower. The electricity cuts off (the fuse in the mains box flicks off). When we turn the mains fuse back on the shower works again. Any idea's please?

Hello, this could possibly be a breakdown of the insulation on the heater tank element, you really need to consult a qualified electrician.

I have a Mira Sprint 9.5kw shower. The power switch will not stay on ,it runs for a few seconds then switches off. It will run if the switch is held in.Will a new switch assembly cure this?

Hello, yes it is a faulty latching switch 416.48

Re my mira sprint. overnight i have started to get a very small dribble (drops) of water from the shower head with the power off and the high pressure water on. I assume this is leaky flow valve or sticky solenoid. what do you suggest? Thanks KS

Hello, yes the solenoid is not shutting off fully, replacing the 1563.507 flow valve will cure it, you may need a new switch assy 1563.509 also as Mira changed the design.

I have a Mira Sprint 8.5kW shower circa 2003. It stopped working last week i.e. no flow of water and low pressure light was on. Power light was on. I bought a solenoid valve from you and fitted it over the week-end. I now have water flow but no heat in the water. Low pressure light is still on and no matter where I put the heat control switch (top control) or the temperature switch (bottom control) there is still no heat into the water. If I alter the rotary position of the temperature switch this does alter the water flow rate. I have a continuity meter to check electrical values if necessary.

Hello, it sounds like the pressure switch paddles are not lifting (either side of the flow valve), check visually if they are lifting when the flow starts.

My Mira sprint 8.5 continues to run for a while when you switch it off

Hello, if it runs on for more than 3-4 seconds, then you need a new flow valve

Mira Sprint 9.5kW:
I have full flow of water but there is no heat in it.
There is no variation in water temperature when adjusting the flow valve.
The power indicator light is on; the low flow indicator is off.
When used on the previous occasion everything was fine.
Any diagnosis would be greatly appreciated.

Hello, from your description I would say the thermal switch has failed.

Water has stopped flowing through the shower, low pressure light has come on ... checked the water supply and thats ok, cleaned filter but still no flow... any ideas.. thanks

hello, this will require a new solenoid/flow valve 1563.507, you may also need a new switch assy 1563. 509

Mira Sprint recently started intermittently going cold for about 20 seconds then resumes temperature. Can go cold every minute or after several minutes. Have tried without shower head - same situation. Have also tried removing shower head and turning to mnimum temperature - full flow - followed by turning to maximum temperature - flow becomes a dribble.
Thanks

Hello, this sounds like the thermal switch has become too sensitive and is cutting in too ealry, please replace the thermal switch 416.41.

i have a Mira Sprint electric shower 28 momths old.the problem with it is when you turn it on it goes from hot too cold and back again.water pressure is ok.have you any answers.
thanks

Hello, if it goes too hot then cold, then the water flow is too low, check the shower head for blockage as this will slow the flow, turn it right back down to the cooler section (temp dial) which should increase the flow and enable a steady temperature to be acheived, if it goes cold from a normal shower temp, then the Thermal switch is faulty/over sensitive.

I have a mira sprint shower, which now needs turning right up to get a usable temp. I dont wont to take the whole thing out. Could you have a good guess to what part needs replaceing please?
Cheers Steve

Hello, it sounds like one of the heater tank elements is not working or one of the microswitches has falied, you would need a qualified electrician to help diagnose which it is.