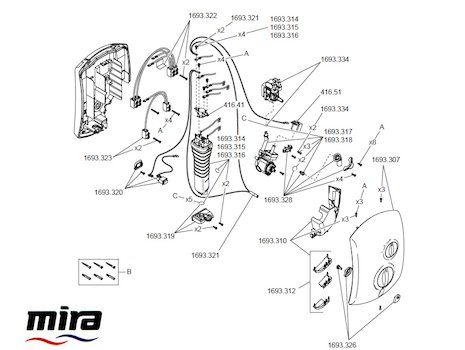 TAP FOR LARGER IMAGE IN NEW TAB

Official Stockist
Mira Jump MK1 Shower Spares
All available shower spares/replacement parts to fit the Mira Jump MK1.
Use the main diagram to identify the shower spare(s) you need to replace. Then use the table below to locate your relevant part(s).
Not what you're looking for? Try our unique Shower Spares Finder.
Need any help identifying the fault with your shower? Take a look at our handy Fault Finder page.
Otherwise please feel free to contact us.
There are 17 currently available spares for the Mira Jump MK1.

These are sorted by diagram reference first (if available) and then by product code in numerical / alphabetical order:

Do you have a question about the Mira Jump MK1?

Click the button below to send a question to one of our expert members of staff and we will email you back a direct response. If we feel the information might be useful to other customers, we will also show your question below for others to see.

Hi, I've recently bought a Mira jump shower, i'm not sure if it's the mark one or Mark two but it's new so I'm guessing it's the mark two, The problem is I haven't even installed it yet and I've lost the screws that hold the outer casing on and I was wondering if you could tell me where to purchase some from?
Many thanks,

Hello, the Mk1 jump cover screws are only supplied with a new cover 1693.307

Hi, we have a Mira Jump. The water temp seems to jump between boiling hot and freezing cold. The temp knob seems to click and not fully catch as you turn it, meaning it has no tension and moves freely as you turn it between 11-1 on the face plate. Any suggestions please? Thanks

the fault of the shower going from hot to cold could be the thermal switch on top of the heater can and an electrician carrying out a continuity test over it should confir. As for the temp knob it may be that is has a slight crack in it and the front cover would need replacing, link below shows the parts

https://www.showerspares.com/mira_shower_spares/mira_all/mira_jump_jump/

I need to order the external switch that controls the temperature, please could you tell me which part this is?

Hello, if you mean the dial/knob it only comes with the front cover. P_art number 1693.307

My Mira Jump (8.5) has lost thermostatic control and switches between hot and cold, giving a few seconds of warm water before going cold again. This cycle goes on repeating. Can you advise me which part to order? Thanks.

Hello, if it is only going warm then cold, you need to replace the thermal switch, if it is going very hot then cold, then you have a partial blockage somewhere (shower head?)

I am looking for the nylon insert that fits into the base of the riser rail that in turn holds the soap dish via a screw that fits into it.
Mira Jump Shower

Hello, sorry for the slow reply, it is in the component pack 1740.381

Hi,
I need to replace the push button assembly on my Mira shower, could you please tell me if i do buy this part how do I fix it onto my shower because I can see on the broken part that the piece comes as one and has no way of slotting onto the shower.
Thanks.

The button comes in 3 parts the front button itself which locates on the front of cover and a rubber gaiter with a locating pin which goes through it into the button to hold it in place

Hi,I wondered if you can advise me,we have a Mira 8.5 jump shower and the water has stopped Kenjarvis05@aol.com. I have tried turning knobs and it makes no difference,could it be the heating element or thermostat .Please can you advise if possible,thanks Ken.

Hello, it is most likely to be the solenoid, it may be just the coil or may be the whole fow valve, you would need an electrician to be 100% sure.

I wish to order shower head holder (bracket) for Mira Jump Shower. I would be grateful if I could get it from you. Thank you.
Damilola
07789641007

hello the part number is 1703.202
this link will take you to the exact page
http://www.showerspares.com/search/mira_l14d_fittings_spare_parts/
Cheers

Hi, we have inconsistent water temperature coming from our Mira Jump, sometimes scalding hot, sometimes cold. Could it be the thermal switch ? Any other ideas ?

Hello, if it goes very hot, too hot to shower under, then the flow of water is too low or being restricted, check and clean the shower head, make sure all the holes are clear, then turn the temperature dial back to a lower position, the flow should increase and the temperature will decrease.