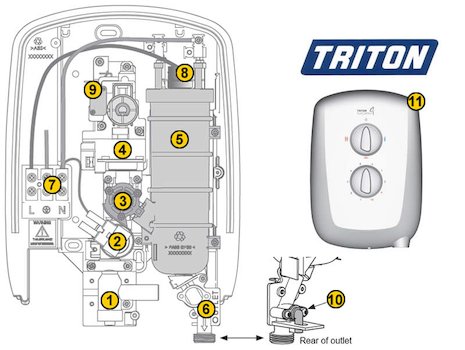 TAP FOR LARGER IMAGE IN NEW TAB

Official Stockist
Triton Ivory 4 V2 (2nd Gen) (Ivory 4) Shower Spares
All available shower spares/replacement parts to fit the Triton Ivory 4 V2 (2nd Gen) (Ivory 4).
Use the main diagram to identify the shower spare(s) you need to replace. Then use the table below to locate your relevant part(s).
Need any help or not what you're looking for? Try our unique Shower Spares Finder or you can contact us.
There are 14 currently available spares for the Triton Ivory 4 V2 (2nd Gen) (Ivory 4).

These are sorted by diagram reference first (if available) and then by product code in numerical / alphabetical order:

Do you have a question about the Triton Ivory 4 V2 (2nd Gen) (Ivory 4)?

Click the button below to send a question to one of our expert members of staff and we will email you back a direct response. If we feel the information might be useful to other customers, we will also show your question below for others to see.

Shower not coming on when I turn the knob. Looked inside, no obvious signs of electrical malfunction. First thought is the micro switch but a couple of web sites have listed this item as discontinued and no longer available. Do this mean a new shower unit or is there any alternative fix. Thankyou

Hello, the new part number is 22012460

Was called to a property and the tenant is complaining about the shower. Its been working perfectly until now. The shower is an Ivory 4. The top dial is set onto the 2 element use and the temperature control is set on 3. Turn the dial just a fraction towards 4 then the water gets scalding hot. This was not a problem during the time when we had hot weather as it was set on 6 and it was comfortable for them. Any Ideas?????

Hello, either the shower head is a bit blocked up or the Stab valve is not functioning correctly, part number P22640800

my triton ivory 4 electric shower , when it is on it goes hot then after a while it goes cold

Hello, you need to check the thermal switches and the pressure switch, both could cause this fault

Hi, after fitting a new PRD (thank you) to my Triton Ivory 4 the water at maximum temperature is only warm. Any ideas what the problem might be?
Thanks

Hello, you have lost the use of one of the heater tank elements, you need to check the outlet thermal switch (on the outlet pipe) the elements themselves, or it could be a microswitch.

Hi, My Triton Ivory 4 Shower is rapidly alternating between very cold and very hot - there is a click each time it begins to go hot or cold again. Are you able to tell me what's going on and if it's easily fixable please? Thanks :)

Hello, this is happening because the flow is too low or the incoming water is too warm. you either need to increase the flow (blocked shower head?) or use it on a lower setting, there is nothing wrong with the shower, the thermal switch is working fine and doing its job.