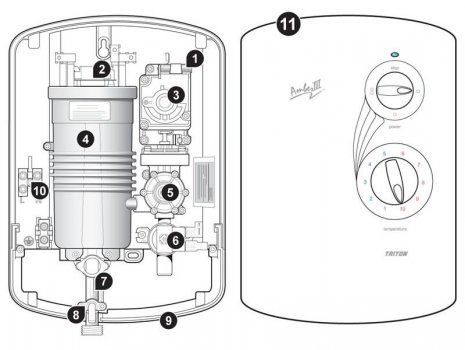 TAP FOR LARGER IMAGE IN NEW TAB

Official Stockist
Triton Amber 3 (Amber 3) Shower Spares
All available shower spares/replacement parts to fit the Triton Amber 3 (Amber 3).
Use the main diagram to identify the shower spare(s) you need to replace. Then use the table below to locate your relevant part(s).
Need any help or not what you're looking for? Try our unique Shower Spares Finder or you can contact us.
There are 12 currently available spares for the Triton Amber 3 (Amber 3).

These are sorted by diagram reference first (if available) and then by product code in numerical / alphabetical order:

Do you have a question about the Triton Amber 3 (Amber 3)?

Click the button below to send a question to one of our expert members of staff and we will email you back a direct response. If we feel the information might be useful to other customers, we will also show your question below for others to see.

plastic cover covering a male and female connector on a thick blue cable on an Amber3 8.5kw shower at the top on the left as u look inside the shower has completley melted! can i get another one either from you of another supplier??

Hello, the wire kit to suit this model is part number 83305390

Where can I get just the inline gauge filter for a Amber Triton 3 Shower unit?
If thats not possible can the shower run effectively without it?
Thanks

Hello, the gauze filter is not available on its own, it is not advisable to run the shower without it as the solenoid is likely to get blocked up.