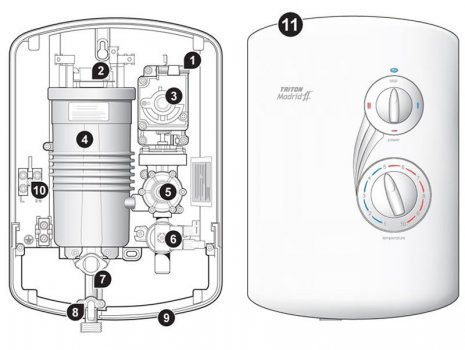 TAP FOR LARGER IMAGE IN NEW TAB

Official Stockist
Triton Madrid 2 (Madrid 2) Shower Spares
All available shower spares/replacement parts to fit the Triton Madrid 2 (Madrid 2).
Use the main diagram to identify the shower spare(s) you need to replace. Then use the table below to locate your relevant part(s).
Need any help or not what you're looking for? Try our unique Shower Spares Finder or you can contact us.
There are 11 currently available spares for the Triton Madrid 2 (Madrid 2).

These are sorted by diagram reference first (if available) and then by product code in numerical / alphabetical order:

Do you have a question about the Triton Madrid 2 (Madrid 2)?

Click the button below to send a question to one of our expert members of staff and we will email you back a direct response. If we feel the information might be useful to other customers, we will also show your question below for others to see.

Our Triton Madrid 2 stopped working yesterday.
The power light still comes on, but nothing else happens.
No water flow or noises etc.
Is this fixable? Or will we need to buy a new shower?
Thanks for your help.

Hello this sounds like a faulty solenoid part number 83300450

Hi
I am after the White plastic attachment the solenoid slips on to,
The part that connects to the metal pipe,
I already have the solenoid, I just need the White part because the pipette snapped as I was removing the broken solenoid
Many thanks
Veronica edwards

Hello, do you mean the part directly above the solenoid or directly below the solenoid?
Above is the Stab valve, below is just a fitting the plumber has used (not a spare)

Hi, my Triton Madrid 11 is just under 18 months old; yesterday, it tripped the electrics a couple of times, and now won't get hot. Just warmish (?)
Thanks in advance.

Hello, it sounds like a heater can element has blown, you will need to replace the heater can assy.

our Triton Madrid 11 is about 2 years old and seems to have lost it power of flow in shower head and is dribbling of some sections. Can we order a new shower head or is there away to fix?

hello, the best head is the Triton 88500032, it may cure the problem, it may not, you could also have a fault with the shower.