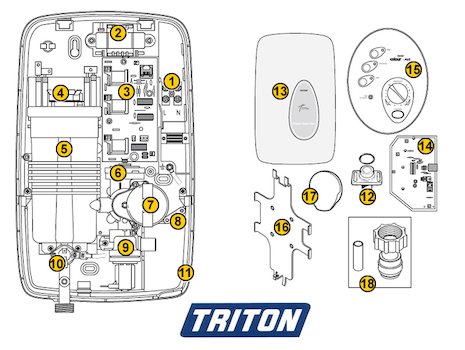 TAP FOR LARGER IMAGE IN NEW TAB

Official Stockist
Triton T300si Remote wired - 9.5kw white/chrome (SP3009SI) Shower Spares
All available shower spares/replacement parts to fit the Triton T300si Remote wired - 9.5kw white/chrome (SP3009SI).
Use the main diagram to identify the shower spare(s) you need to replace. Then use the table below to locate your relevant part(s).
Need any help or not what you're looking for? Try our unique Shower Spares Finder or you can contact us.
There are 26 currently available spares for the Triton T300si Remote wired - 9.5kw white/chrome (SP3009SI).

These are sorted by diagram reference first (if available) and then by product code in numerical / alphabetical order:

Do you have a question about the Triton T300si Remote wired - 9.5kw white/chrome (SP3009SI)?

Click the button below to send a question to one of our expert members of staff and we will email you back a direct response. If we feel the information might be useful to other customers, we will also show your question below for others to see.

Do Triton still make different coloured covers for their control panel for the 300si. I'm trying to find all chrome cover please.

Hello, not just a cover, you would have to buy a new control panel 87400040
https://www.showerspares.com/search/triton_aspirante_control_panel_chrome_87400040/

Hi,
I have a Triton S300si shower but I do not know whether it is the wired or wireless version. At any rate it has developed a fault. When it was turned on we had water coming down the pressure relief tube and the water coming out of the shower head was at a reduced rate. It was cold water and operating the temperature bezel appeared to have no effect.We could not turn the shower off to stop the water flow. We tried the control panel and we tried the main electrical switch but despite the absence of any power it still continued to run water. Eventually we had to stop it via an isolating stop cock and we turned off the power.
What does this sound like because I need to assess whether it is econonic to repair ?
Best wishes
Desmond Jaggers

Hello, flow from the relief tube indicates that the PRD has blown, caused usually by a blocked shower head or kinked hose, not able to stop the flow would be a faulty solenoid valve.

My Triton T300si water temperature is extremely hot even on the lowest setting. What could cause this?

Hello, the flow is being restricted causing the temperature to increase, slow flow = hotter water, is the shower head blocked?, when you turn the temp dial to cooler does the flow increase?

Hello
Water from our T300si only has Luke warm water even on full temperature. We have purchased from you a new water heater but still the same. Can you advise on what I should try next?

Hello, this sounds like the outlet thermal switch may have failed part number 85000130, it will need to be replaced.

hi, i seem to have water leaking from the stepper motor.
is there a seal that can be replaced.
many thanks.

Hello, the motor is not the cause of the leak, it is most likely the Stabilising valve, please remove the stepper motor and check again for the leak.