After a couple of months of development, as well as feedback from customers and staff alike, we're pleased to launch a new version of our website, showerspares.com.
This release is primarily to enhance the experience of our mobile and tablet users, and to bring it more inline with our main site.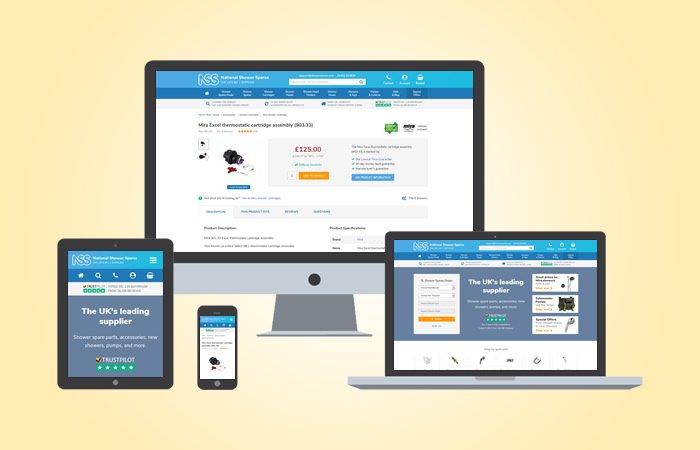 You'll notice that the majority of the site looks and functions pretty much the same as before: same dual blue colouring, informative exploded diagrams, express checkout, and the same easy-to-use shopping experience; as well as competitive pricing and our Lowest Price Guarantee on all shower spares.
Most of the work we've done recently is behind the scenes, as the previous version of our website had a separate mobile site that only kicked in if you were using a small-screen device, such as an Apple iPhone or Samsung Galaxy smartphone.
This worked and served both our customers and us well, but with essentially two sites to manage, it meant that on occasion our mobile users had to wait longer for the latest features or updates to roll out. It also meant that our tablet customers were forced to use our main desktop site, instead of a touch-enabled site that would be much easier to navigate for those types of users.
Rise in global mobile traffic
With mobile traffic ever on the increase - the Guardian newspaper reported that mobiles and tablets now make up 51.3% of global internet traffic, as of November last year - we wanted to ensure that our customers were getting a consistent and modern browsing experience, regardless of the device they choose to use to shop with us.
In addition, Google have also recorded a significant swing to mobile and tablet devices in recent years. Their main ranking algorithm will be fundamentally changing in the latter part of 2017 or early 2018 to fully reflect this preference, and will prioritise sites that are completely "mobile-friendly".
Declining PC sales in recent years, coupled with soaring smartphone purchases, further highlights the importance of responsive web design across the board. As such, our new site delivers on all the above and more, as well as reinforcing our commitment to being the UK's number 1 supplier of shower spare parts, accessories and new showers.
It will also allow us to apply further updates much quicker in the future - to all our customers equally. The responsive nature of the design will dynamically scale up or down based on the device you use, helping to create a seamless journey, whether you wish to use a smartphone, tablet or even an internet-enabled smart TV.
And as always, we still provide a safe and secure shopping environment, with HTTPS security enabled by default. This ensures that any and all information you provide on our site is encrypted with the latest technology and standards.
Feedback
Do you have any thoughts on our new responsive site? Or perhaps, despite our testing, something isn't working quite right for you?
Please get in touch with us here and we'll take a look.