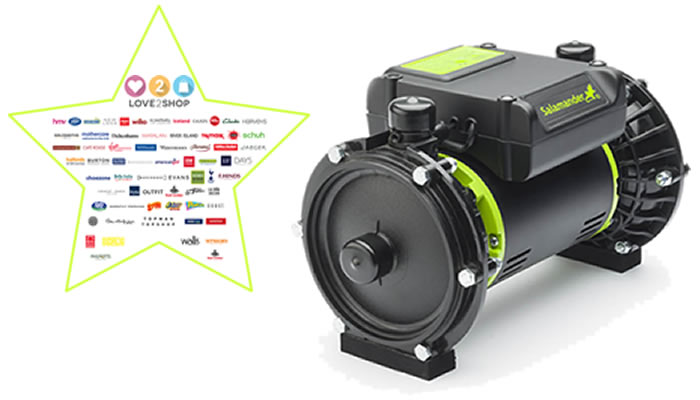 Salamander Pumps, one of the UK's leading manufacturers of domestic water pumps, have created a simple solution to boosting gravity-fed systems, which is often a problem for both homeowners and installers.
Salamanders Pumps' Right Pumps are centrifugal by design, which mean they use centrifugal force to improve the water pressure in a gravity-fed system, with models suitable for boosting showers, bathrooms, or the whole house.
When choosing which shower pump to install, Salamander understand that noise is also an important factor to consider. Using a centrifugal impeller to boost water performance makes the Right Pump range quieter than other styles of pump. The Right Pump family features the quietest shower pump in the UK – the Salamander RP50PT, with a noise rating of just 45.5dBA. Independently tested against the competition, the range was confirmed to include some of the quietest shower pumps on the market and has been awarded the Quiet Mark from the Noise Abatement Society.
Increasing pressure using centrifugal force also results in a higher flow efficiency than other types of pumps – meaning that centrifugal pumps will maintain high pressure as the flow rate increases, so as more outlets are opened the drop in pressure is less noticeable. Therefore, installations with multiple bathrooms will benefit from installing a Right Pump almost as much as a single bathroom setup.
The Right Pumps replace the now-obsolete RGP, RHP, RSP and ESP ranges, with new innovations incorporated into the pump including a "spider web" design on the pump impeller housing, enhancing strength, rigidity and reliability. Advances across the Right Pump family have led to improved quality of the pumps, which is reflected in a solid 3-year warranty on each model.
Suitable for showers, bathrooms and the whole house, the Right Pump range has a product for every application. With single impeller variants for boosting just the hot or just the cold water, and twin variants for both. The range also has pumps suitable for negative or positive head installations.
And as an extra bonus – we're giving away Love2shop vouchers worth £15 with Right Pump purchases made between 16 September and 30 November 2020. A win-win!
Along with the Right Pump range, Salamander Pumps is helping to make specification much simpler for the installer. They have introduced an easy-to-use product selector to their website, to further help to identify the correct product for your needs. Simply use this tool and then purchase from us at National Shower Spares when you're ready.
You can browse through our entire portfolio of Salamander's selection of pumps and accessories here.
Please contact us if you need any help choosing the best pump for your requirements. Our friendly customer service team are always happy to assist.