Homes across the UK often deal with disruptions caused by poor water performance from outlets situated throughout the entire household. In busy homes where water demand is high, the most effective solution is a pump that meets with the requirements of whole-house applications.
As low water pressure and poor flow rates are ongoing issues for a multitude of reasons, the type of plumbing systems in place will determine the pump type and installation that can effectively alleviate these concerns, ensuring a superior water experience for homeowners.
In a vented (gravity-fed) system a cold-water storage tank (cistern), usually located in a loft, and a hot water cylinder, often found in the airing cupboard, supply water across the property. The water pressure and flow rates are determined by the height between the cold-water tank and the outlet. Often a pump is needed to supply sufficient water pressure and flow to the outlets.
When households with a gravity-fed system require a powerful pump capable of supplying multiple outlets, including a shower, bath, basin, toilet cistern and dish washer - Salamander Pumps' offers a perfect high-performing, high-quality solution.
Centrifugal technology powers the pump for whole-house applications.
Salamander Pumps' Right Pump range is unique within the domestic marketplace due to its centrifugal operation, and has undergone continuous manufacturing, installation, and performance improvements since it was first launched in 1998, making it the high-quality product it is today
Using centrifugal technology allows Right Pumps to maintain high flow rates at greater pressures, making them an ideal choice for whole-house applications, including supplying body-jet showers or boosting multiple outlets throughout the home so taps and showers can all be used at the same time.
Centrifugal technology also enables the pump's operating noise to remain very quiet, from just 45dBA, which sounds much quieter than traditional regenerative pumps. The range is amongst the most reliable shower pumps in the market today, and they hold the prestigious Quiet Mark certification. The RP50PT/TU are the quietest twin shower pumps in the UK, based on independent testing.
Right Pumps also incorporate Salamander Pumps' Crossover™ technology, an innovative bypass facility that allows the pump to perform seamlessly when running either a hot or cold tap individually, without causing damage to the side of the pump not in use.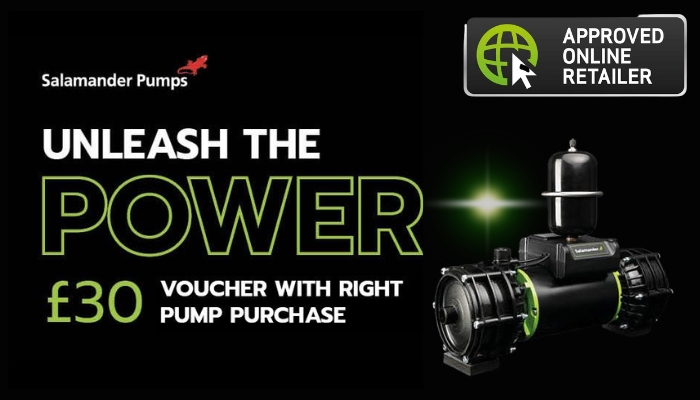 Designed to be fit-for-purpose
Specifically designed to be functional and versatile, the Right Pump range offers both positive head and universal (negative head) models.
For a positive head pump to activate, the flow rate requirement is just 1 litre per 30 seconds (or 2 litres per minute) for each side (hot and cold).
However, if the minimum flow rate of 2 litres per minute cannot be achieved from all hot or cold-water outlets that are to be pumped, the universal (negative head) pump will deliver an optimal boost.
Installation process
Involving an easy installation process, Right Pumps use the vacant space above the pump for the pressure vessel on universal models to limit the space used by the unit.
For optimal placement, the pump should be positioned at the cylinder's base. The main considerations are to ensure airflow is adequate for motor cooling and to isolate the pump from heat-emitting appliances. This can be easily achieved by leaving a 100mm clear space on each side, both ends, and on top of the pump.
Crucially, the hot supply to a centrifugal pump must be via an anti-aeration flange to minimise air intake. Air bubbles gather at the top of the hot water cylinder, a flange draws water from deeper within the cylinder where the water is less aerated. Air in a pump can lead to cavitation and cause serious damage. Not only will the pump's components lifetime dramatically decrease, but the operating noise will also increase.
Powerful performance
Multiple centrifugal impellers within a Right Pump allow these pumps to deliver a powerful performance to the whole house, as they are able to maintain higher flow rates at greater pressure compared to alternative pump designs.
However, to provide an even more invigorating water experience, Salamander Pumps has also introduced the Right Pump SuperBooster packs.
These packs, which include two single-ended, universal (negative head) pumps, use centrifugal technology to deliver even higher pressures for both hot and cold water when compared to one twin pump, making them perfect for larger households with gravity-fed systems.
SuperBooster packs also provide installation flexibility, allowing the two single pumps to be positioned separately, near the cold-water tank and hot water cylinder, respectively.
Plus £30 Gift Card!
When you purchase any pump from the Right Pump range, you will receive a £30 Amazon or Love2Shop voucher! It's easy to claim - just purchase the Right Pump from us, fill in the online form, and you will be sent the gift card. Simple as that!
If you need assistance choosing the right pump for you, please contact us. Alternatively, see our range of Salamander Pumps.