Mira's commitment to creating the ultimate shower experience has led to the development of their new Mira Platinum Range. This range represents the pinnacle of Mira's engineering prowess, offering a host of features designed to transform your daily shower into a luxurious and refreshing ritual. With its digital precision, wireless control, eco-friendly features, and advanced connectivity options, it's a game-changer for your daily shower routine. The combination of cutting-edge technology and elegant design makes this range a must-have for those who seek the ultimate shower experience. Say goodbye to cold, inconsistent showers and hello to a new era of comfort and convenience.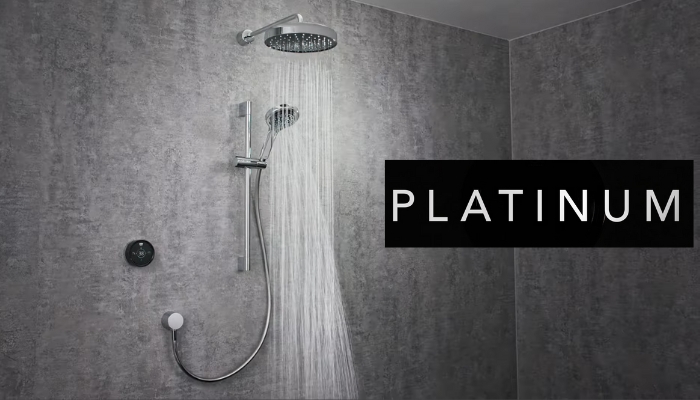 Let's dive into the details of this exciting new range and explore the cutting-edge technologies and features that make the new Mira Platinum Range a must-have for anyone seeking the best in shower innovation.
1. Unmatched Digital Precision
The Mira Platinum Range introduces a digital interface that puts you in complete control of your shower experience. With an easy-to-use touchpad interface, you can precisely control the water temperature and flow, ensuring a shower experience tailored to your preferences every single time. Mira's advanced technology ensures that your chosen water temperature remains consistent throughout your shower, meaning no more jumping in and out of the shower to avoid scalding or freezing moments.
2. Wireless Control
One of the standout features of the Mira Platinum Range is its wireless controller. The compact and stylish controller can be placed conveniently anywhere in your bathroom, allowing you to start and stop your shower remotely. This means you can warm up your shower from the comfort of your bed, ensuring that you step into a perfectly heated stream of water every morning.
3. Eco-Friendly Operation
Mira recognizes the importance of sustainable living. The Mira Platinum also offers several features to let you conserve water and energy, including showing your water usage and timing your shower in Eco Mode. With the unique Mira 360 Shower Head with rub clean nozzles, you can obtain four spray patterns - Rain, Glide, Silk and Burst - at a quick and easy flip.
4. Smart Connectivity
Want to control your shower from your smartphone or tablet? The Mira Platinum Range is compatible with the Mira Connect App, which allows you to control your shower from your smartphone or tablet. This level of connectivity ensures that you always have the perfect shower waiting for you.
5. Award Winning Shower Fittings
Enjoy unique spray experiences with the Award winning Mira 360 shower head with Mira Flipstream™ Technology offering 1 flip action and delivering 4 unique sprays - Rain, Glide, Silk and Burst. Rub clean nozzles mean easy cleaning and limescale removal. Dual versions include a large 250mm deluge shower head.

6. Easy Installation
Despite its high-tech features, the Mira Platinum Range is designed for easy installation. You don't need to be a plumbing expert to enjoy the benefits of this range. Mira provides clear instructions and support to ensure a hassle-free setup.
Available in four Variants - Single Outlet Ceiling Fed, Dual Outlet Ceiling Fed, Single Outlet Rear Fed and Dual Outlet Rear Fed, with High Pressure and Pumped versions of each variant.
Valve & Controller variants are available, where there are existing shower fittings which do not need replacing.
See the complete Mira Platinum Range here.